15 Best Driver Updater for Windows in 2023 (Free & Paid)
Windows is one of the most used and powerful operating software due to its versatility and special features. With the help of external tools like keyboards, mouse, graphics cards and other hardware devices, Windows can perform its functions pretty quickly and smoothly. But, to properly run these hardware devices on the computer system some suitable device drivers are required.
The drivers need to be regularly updated and always function properly to offer the smooth Windows experience. To update your drivers from time to time, you should get the best driver updater software for Windows 11/10/8/7. Above all, we have also covered free driver updater for you!
The Best Driver Updater For Windows 11/10/8/7 in 2023 (Free & Paid)
Updating drivers manually could be an option when you need to update couple of device drivers on your Windows PC. It is always better to use the best driver update software for Windows, if you have a lot of outdated drivers that need to be updated. Here, we have covered top driver updater solutions such as Auslogics Driver Updater to Ashampoo Driver Updater and more to update all outdated drivers effortlessly.
1

2

3

Auslogics Driver Updater
IObit Driver Booster 9 Pro
AVG Driver Updater
· Excellent ability to treat the corrupted driver

· Easy update option

· Choosy backup system

· One push restore option

· Full-scale driver archive

· Capable of installing latest drivers

· Self-executing driver update

· Superior restore and backup features

· Identifies potential driver updates

· An exclusive printer driver update

· Comprehensive scanning ability

· Capability to ensure Smooth hardware performance
Auslogics Driver Updater is an advanced solution that helps you update all outdated drivers on your Windows system in one click. It helps you prevent device conflicts and ensure smooth hardware operations. It works on proprietary Auslogics technology that is proven secure and effective in multiple tests, used by PC manufacturers and recommended by experts. It allows you to take driver backups before you update any of them. It is useful feature to undo action if something goes wrong after driver update.
Features
Identifies potential driver updates
An exclusive printer driver update
Comprehensive scanning ability
Capability to ensure Smooth hardware performance
Pros
Powerful Driver locator
Intuitive interface
Safe and effective operation
Coherent scan report
Cons
Cannot update all types of drivers
Lower working norm of a few drives
Price: $39.95
Device Compatibility: Compatible with Windows 7, 8.1, 10, 11
IObit Driver Booster 8 Pro is one of the most used and popular driver updater tools available online. IObit driver updater software can help you automatically update all your drivers in the tool itself. The simple and easy to use interface of this booster can be used with any version of Windows. Once you have set up the automatic driver update locator feature, then IObit Driver Booster will provide you list of all the updates that you can do without opening your web browser.
IObit Driver Booster compares the features of the new version of driver updater app with the current version before installing it. This feature is very helpful in understanding the difference between the two versions for users. There's also an option where you can install the drivers in the background which hides installation wizards and other popup messages.
Features
Huge driver database
Can update more than 3,000,000 drivers
Extensive capability to update external drives
Splendid ability to rehabilitate most of the Windows issues
Pros
Simple user-interface
Profitable free version
Self-acting updates
Can boost game performance
Cons
Operation requires an active data connection
Frequent suggestions about other iObit products.
Price: $19.95
Device Compatibility: Windows 11/10/8.1/8/7/Vista/XP
AVG drive updater is a competitive tool used to resolve all your driver related issues efficiently. Keeping the driver up to date is one of the simple and suggested methods for avoiding driver issues. This best driver updater will do that task flawlessly. Having an updated driver will elevate the performance speed of the system.
AVG driver updater is a freeware and an extra featured paid version of the tool is also available. This application can diagnose computer freezing issues, connectivity issues, printer problems, and other system issues with righteous updates for Windows 10/8/7.
Features
Extensive customer support
Capability to scan more than 500,000 drives
Ability to scan and update by schedule
Classy User-interface
Pros
Enhance performance
Completely automatic operation
Efficient free scans
Best Backup features
Cons
Comparatively expensive
Lack of excess options
Price: $39.99 / Year
Device Compatibility: Windows XP, Vista, 7, 8, 10 and 11
With freeware tool features, it is an impressive driver software. The software has the capacity to detect multiple outdated drivers in one go. It can download all the broken and outdated drivers with one click and fix them to provide smooth access to the users. It offers easy driver backup and restore option to help you update drivers easily. Smart Driver Care is compatible with all latest Windows versions.
Features
Excellent ability to treat the corrupted driver
Easy update option
Choosy backup system
One push restore option
Pros
Intelligible interface
Can resolve dreadful issues
Uses genuine sources to update
Automatic update option
Cons
Insufficient free version options
No proper tutorial assistance
Price: $47.14
Device Compatibility: Windows 10/8.1/8/7 (both 32 bit and 64 bit)
Advanced Driver Updater is a free driver updater to download the latest version of drivers on your system. You just have to run a simple scan after downloading this program. It will automatically figure out all the outdated drivers and ask for permission to update them.
Moreover, this software will offer you a feature of creating a backup of your drivers so that you can restore them anytime in the future. This software is very easy to use and it can support multiple languages such as French, Spanish, etc., From Windows XP to 10, it is compatible with all. You can also try its paid version to explore numerous other features.
Features
Full-scale driver archive
Capable of installing latest drivers
Self-executing driver update
Superior restore and backup features
Pros
Good customer support
Selective driver update
Scans the downloaded update files
Simple scan list
Cons
Comparatively low personalization options
No inbuilt uninstall preferences
Price: $47.14
Device Compatibility: Windows 10/8.1/8/7/Vista and XP (both 32 and 64 bit)
6. ITL Driver Updater
This desktop software tool is capable of boosting up the systems performance by updating all the outdated drivers. ITL driver updater is provided with user friendly interface with which updated drivers can be searched and installed quickly. This tool is compatible with current and previous versions of the Windows operating system. ITL driver tool can also quarantine system errors and is a multi functional tool for a complete revamped PC experience. Updates can be identified and installed automatically with the aid of this tool on Windows 10/8/7.
Features
Scheduled scan activities
Can elevate gaming and video performance
Round the clock client support
Huge driver database
Pros
Easy to install
Have high flexibility
Instantaneous driver update
Faster download speed
Cons
Not compatible with Windows XP and Vista
Sluggish deep scans
Price: $49.95
Device Compatibility: Windows 10, 8.1, 8, 7
7. DriverPack Solution
This is the next best driver updater software for Windows 10, Windows 11 and below as it is one of the simplest tool present in this list. The user interface screen of the software is highly simple with the availability of few buttons only. This advanced Windows driver update software allows bulk download and automatically installs the software without any wizard installation.
If you don't like to automatically download driver updater software, then you can select the manual option as well while installing DriverPack Solution program. This software can be easily downloaded on Windows 10, 8, 7, Vista, and XP.
Features
Customizable settings
Enhanced protection and cleanup features
Automatic restore point creation
Full installation control
Pros
Consumes less space
Multi-language support
Faster bulk downloads
Customizable options
Cons
No scheduled scans
Presence of unrelated features
Price: Free
Device Compatibility: Windows 11, 10, 8, 7, Windows Vista, and XP
8. Driver Talent
This is a top most driver updater software that allow users to download new versions of their drivers without using the Internet or browser. Software not only updates the outdated drivers but also repairs the corrupt programs. There's also one very interesting feature within Driver Talent that lets you pre-download all the drivers necessary for the computer so that you can easily reinstall them should you reinstall the OS later. Moreover, the software itself downloads pretty quickly on the computer system and its updates download even swifter.
Features
Intelligible user-interface
Faster installation
Talent to update game files
One-click update
Pros
Easy to use
Automatic driver downloads
Better backup ability
Can update all types of drivers
Cons
No manual scheduling ability
Cannot download huge files
Price: $29.95 Lifetime License for 3 PCs
$19.95 Lifetime License for 1 PC
Device Compatibility: Windows 10, 8, 7, Vista, and XP
9. Ashampoo Driver Updater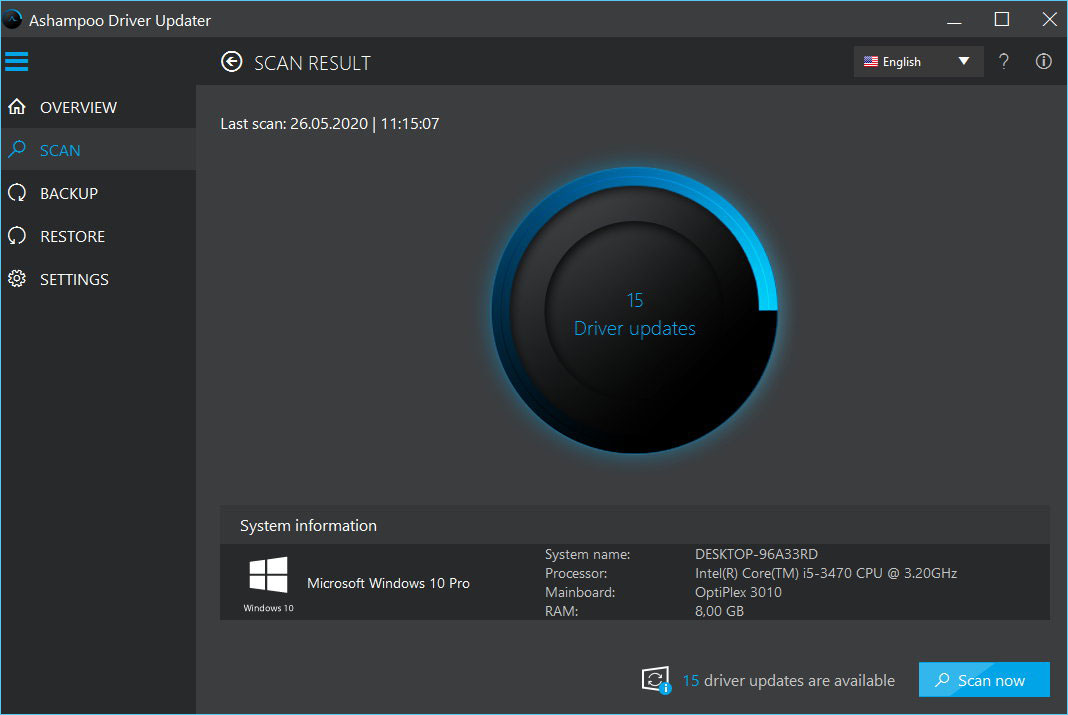 It is a highly functional driver updater software designed by Ashampoo. This best driver updater ensures that your system runs smoothly by updating all outdated drivers. The program also scans your entire system and detect the defected drivers which are making your system sloppy.
After scanning, you can select the drivers that needs to be updated immediately and others that can be updated sometime later. This is very simple and user-friendly Windows driver update software supports over 150,000 devices with more than 400,000 drivers database.

Features
A huge database of 400,000 drives
Comprehensive customer support
Automatic update ability
More secured operation
Pros
Quick hardware scanning
Compatible with Windows 10
Expansive scheduler
Sweeping restore and backup features
Cons
Provides only single license
Bit confusing interface
Price: $16.00 / 3 PCs for 1 year
Device Compatibility: Windows 11, 10, 8, 7
Also Read: Best Disk Cloning Software for Windows
10. Driver Easy
This is one of the best driver updater software for Windows that is also available for free trial. The tool just scans your entire system and locate the outdated and missing drivers. And, you can update them all with the one click of your mouse. Apart from this feature, you can easily create a backup of your drivers to restore them in the future.
The free trial of the software is available on Windows XP, Vista, 7, 8, 8.1 and 10. Once you are satisfied with the free trial, then you can easily get the pro version of this software.
Features
Casual interface
Automatic driver updating
Can show information about drives
Ensures faster driver speeds
Pros
Consumes fewer system components
Immense driver directory
Reliable money-back guarantee
Offline operation
Cons
Unwanted Ads
Low download speed
Price: $29.95 for 3 PCs a year
Device Compatibility: Windows XP/Vista/7/8/8.1/10/11
11. DriverMax
This is a best free driver updater software available for all the recent versions of Windows including Windows 10/8/7. It can automatically scan your entire system and find out the outdated device drivers that need to be updated or fixed immediately. You can even schedule a scan in advance with this program. You can easily backup your drivers before installing the updated version for future use.
Features
Automatic installation
Supports system utilities
Updates drivers along with OS components
Simple interface
Pros
Can use driver rollback to restore
Installs genuine drive updates
Scheduled scanning ability
Creates backup and restore point
Cons
Restricted update ability with a free version
Low functionality
Price: $10.39 / year
Device Compatibility: Windows XP/Vista/7/8/8.1/10
12. Driver Reviver
Driver Reviver allows you to locate outdated drivers easily on your system and provides the facility to update them all with a single click. It even eliminates the risk of downloading infected software. This best driver updater software for Windows protects you from downloading any wrong software in your computer. This easy to use software is stocked with essential features of driver backup and restoration.
Features
Useful technical support
Downloads from OEM source
Less system space consumption
Malware free operation
Pros
Easy usage
Ability to restore from back up point
Simple scanning option
Customizable driver update list
Cons
Somewhat expensive
Update installation cannot be done within the tool
Price: $29.99 / year
Device Compatibility: Windows Vista, 8, XP, 7
13. Driver Genius
It is a quite unique Driver Updater tool as compared to the other software listed in the post. With the huge library of drivers, it could fit for every computer users. The software shows a message with the information of current software features as compared to the updated version features.
Once you click on scan, it will automatically display results and download drivers in the separate web pages. This advanced driver updater software is compatible with both 32 and 64 bit Windows versions and offers easy download.
Features
Inbuilt driver cleanup features
Can display hardware information
Can increase SSD Speed
System transfer assistance to manage network
Pros
Clumsy user-interface
Cannot detect all drivers
Single license for three system
Programmed scans
Cons
The free version has insufficient features
No offline operation
Price: $22.95 (Professional Edition)
$32.95 (Platinum Edition)
Device Compatibility Windows 11/10/8.1/8/7/Vista/XP
14. Device Doctor
This driver updater is an excellent free software that can scan your drive for the update. Device doctors can also quarantine the disk drive and identify the availability of an update for the drive. The scanning and updating function is very fast and reliable. This tool provides supports for both 64-bit and 32-bit systems. This genuine software is having its database of 13 million drivers for different devices.
Features
Capability to scan external drivers
No installation required
Easy to set up and easy to use
Downloads genuine driver updates
Pros
Large driver database
Simple and easy to operate
Automatic scanning ability
Capability to update drivers in free version
Cons
Slower driver updates
Less featured no cost version
Price: Free
Device Compatibility: Windows XP, Vista, 7 (64-bit or 32-bit), 8 / 8.1, and Windows 10
15. DriverFighter
Keeping an updated driver is mandatory for keeping up your diver's performance. Driver Fighter is the best driver updater tool that can elevate the system stability and performance. The requirement for an update can be identified by automatic scanning features of the tool. This tool can explore, locate and install the best suitable driver update from the software database available. This genuine software application is available as a basic free version and a paid version with full options.
Features
Scans and detect outdated drivers
Can stabilize your computer
Can improve hardware performance
Secured driver downloads
Pros
Massive driver database
Can boost game components
Excessive features
Increases system stability
Cons
Cannot identify missing drivers
Partial translation
Price: $19.95 / year
Device Compatibility: Windows 7, 8, 10, XP, Vista
Driver Update FAQ
How Does Driver Work?
Whenever you connect new hardware device to your Windows computer, then you need to install suitable driver software along with it. Most of the times these drivers are installed automatically on your system. Driver software helps in adjusting device with the working environment of the computer and enables the computer to locate the USB driver. Device drivers help hardware communicate with operating system.
Why You Should Update Drivers?
To make sure that your hardware device works properly on your Windows system, you have to regularly update drivers, just like any other software. And for this, constant support of Windows driver update software is required.
How to Update Drivers Manually?
Windows offers built-in utility to help you update outdated drivers one-by-one. You can use Device Manager to update these drivers. To do this, follow these steps:
Search & select Device Manager in the search box on the taskbar.
On Device Manager window, expand one of the categories that you want to update driver for.
Once selected the device category, right-click on device and select Update Driver.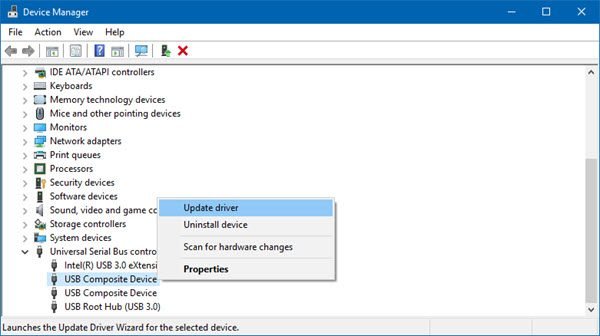 Once you click on Update driver you will find two options:
First, Search automatically for updated driver software that you can use to let Windows search & install latest driver updates on your PC automatically.
Second, Browse my computer for driver software that you can use to locate and install driver software manually from your PC.
Note: To use second option, you need to download the latest driver software from manufacturer website on your PC and then browse it to install.
Conclusion
By keeping your device drivers up-to-date, you can speed up Windows performance significantly. That's why if you want to enjoy using hardware on your computer, you have to get the best driver updater software for Windows 10, Windows 11 and below in 2023. Try one of these paid or free driver updater software for your PC to boost Windows performance and save time. 
Recent Post
There are many elements of a website's UI or user interface. These include: input controls, like buttons or icons, text fields, checkboxes, and dropdown lists navigational components, like navigation bars, scroll arrows, and accordion menus informational cues, like progress bars, tool tips, and loading screens In all of these UI design features, colors and color […]
A virtual private network is essential for improving secure connections. Many people and companies use VPNs to protect their browsing. Consider the fundamentals, whether you use it for a private or free Wi-Fi network. Using a free VPN for PC can be helpful down the road. VPN connections with various corporate networks might protect your […]
In recent years, there has been a surge in the number of tech start-ups worldwide. These young companies, powered by visionary entrepreneurs, are characterized by their agility, flexibility, and focus on innovation. They have the potential to revolutionize various sectors, from healthcare and transportation to finance and education. Investing in a tech business can be […]
Introduction Facebook provides different interesting features for users, including the ability to watch short-form videos on the platform. Whether that involves watching the content on your feed or other specialized features like Facebook Shorts, these types of content are simple to view and scroll through. However, some people may notice the Facebook video not playing […]
CCleaner- Available for Multi-faceted PC Health Improvement Support Typically, countless users activate and use computers for varying reasons. Some operate these systems for work purchases or school-based requirements. On the other hand, people use PCs for their performance uses, like creating videos, watching movies, playing games, and other multimedia uses. Therefore, given the high usage […]
Introduction In the professional environment, you must create the proper Resume to get access to the job type you want. You need to prepare the document with necessary details related to your skills, job search objective, educational and work qualifications, and other vital information. Unfortunately, not everyone always has access to a personal computer or […]
Recently, the vulnerability rate of IT systems and software to cyber threats has increased exponentially. This recent turn of events has necessitated the invention of more robust security techniques to address these attacks. Besides, ensuring maximum security at all software development life cycle stages is just as paramount as functionality. One of the most strategic […]
Introduction Technology over the years has made our lives easier for us in different ways. One of the prominent inventions is the internet, which is accessible to practically everyone and allows for a more digitally interconnected space. Therefore, information is more easily available, but is it safe for all users to access, like children? Indeed, […]
In later 2022, Elon Musk, the CEO of SpaceX and Tesla, completed the transaction for the Twitter platform following months of discussing, planning, and conversations. The buyout was for USD 40 billion after a series of shakeups and many countermeasures. Following this takeover, there was lots of debate in the market about the potential future […]
Often when you receive any voicemail, your first concern is to store the backup copy of the same file on your iPhone. This way, you can access the voice or textual file of the voicemail anytime without worrying about the same being deleted from your mobile. But since iOS doesn't save the backup copy automatically […]