Last updated on June 7th, 2020 at 12:10 pm
Windows is one of the most used and powerful operating software due to its versatility and special features. With the help of external tools like keyboards, mouse, graphics cards and other hardware devices, Windows can perform its functions pretty quickly and smoothly. But, to properly run these hardware devices on the computer system some suitable device drivers are required.
The drivers need to be regularly updated and always function properly to offer the smooth Windows experience. To update your drivers from time to time, you should get the best driver updater software for Windows in 2020. Above all, we have also covered free driver updater for you!
The Best Driver Updater For Windows in 2020 (Free & Paid)
Video Source: FileHorse YouTube
Updating drivers manually could be an option when you need to update couple of device drivers on your Windows PC. It is always better to use best driver update software for Windows, if you have a lot of outdated drivers that need to be updated. Here, we have covered top driver updater solutions such as Smart Driver Care to Ashampoo Driver Updater and more to update all outdated drivers effortlessly.
With freeware tool features, it is an impressive driver software. The software has the capacity to detect multiple outdated drivers in one go. It can download all the broken and outdated drivers with one click and fix them to provide smooth access to the users. It offers easy driver backup and restore option to help you update drivers easily. Smart Driver Care is compatible with all latest Windows versions.
Advanced Driver Updater is a free driver updater to download the latest version of drivers on your system. You just have to run a simple scan after downloading this program. It will automatically figure out all the outdated drivers and ask for permission to update them.
Moreover, this software will offer you a feature of creating a backup of your drivers so that you can restore them anytime in the future. This software is very easy to use and it can support multiple languages such as French, Spanish, etc., From Windows XP to 10, it is compatible with all. You can also try its paid version to explore numerous other features.
Auslogics Driver Updater is an advanced solution that helps you update all outdated drivers on your Windows system in one click. It helps you prevent device conflicts and ensure smooth hardware operations. It works on proprietary Auslogics technology that is proven secure and effective in multiple tests, used by PC manufacturers and recommended by experts. It allows you to take driver backups before you update any of them. It is useful feature to undo action if something goes wrong after driver update.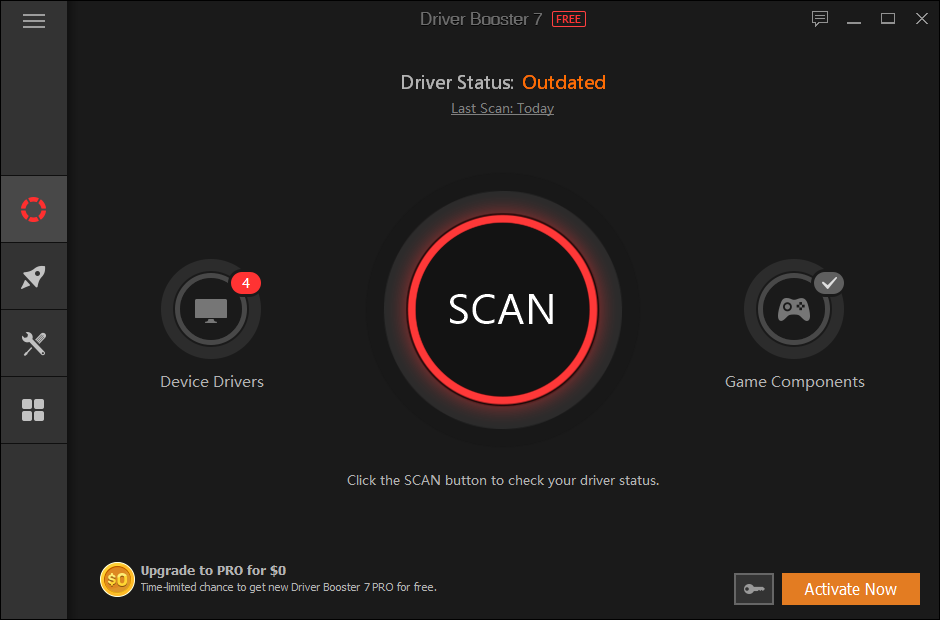 IObit Driver Booster is one of the most used and popular driver updater tool available online. This free driver updater can help you automatically update all your drivers in the tool itself. The simple and easy to use interface of this booster can be used with any version of Windows. Once you have set up the automatic driver update locator feature, then IObit Driver Booster will provide you list of all the updates that you can do without opening your web browser.
IObit Driver Booster compares the features of the new version of driver updater app with the current version before installing it. This feature is very helpful in understanding the difference between the two versions for users. There's also an option where you can install the drivers in the background which hides installation wizards and other popup messages.
5. AVG driver updater
AVG drive updater is a competitive tool used to resolve all your driver related issues efficiently. Keeping the driver up to date is one of the simple and suggested methods for avoiding driver issues. This best driver updater will do that task flawlessly. Having an updated driver will elevate the performance speed of the system.
AVG driver updater is a freeware and an extra featured paid version of the tool is also available. This application can diagnose computer freezing issues, connectivity issues, printer problems, and other system issues with righteous updates.
6. ITL Driver Updater
This desktop software tool is capable of boosting up the systems performance by updating all the outdated drivers. ITL driver updater is provided with user friendly interface with which updated drivers can be searched and installed quickly. This tool is compatible with current and previous versions of the Windows operating system. ITL driver tool can also quarantine system errors and is a multifunctional tool for a complete revamped PC experience. Updates can be identified and installed automatically with the aid of this tool.
7. DriverPack Solution
This is the next best driver updater software for Windows in 2020 as it is one of the simplest tool present in this list. The user interface screen of the software is highly simple with the availability of few buttons only. This advanced Windows driver update software allows bulk download and automatically installs the software without any wizard installation.
If you don't like to automatically download driver updater software, then you can select the manual option as well while installing DriverPack Solution program. This software can be easily downloaded on Windows 10, 8, 7, Vista, and XP.
8. Driver Talent
This is a top most driver updater software that allow users to download new versions of their drivers without using the Internet or browser. Software not only updates the outdated drivers but also repairs the corrupt programs. There's also one very interesting feature within Driver Talent that lets you pre-download all the drivers necessary for the computer so that you can easily reinstall them should you reinstall the OS later. Moreover, the software itself downloads pretty quickly on the computer system and its updates download even swifter.
9. Ashampoo Driver Updater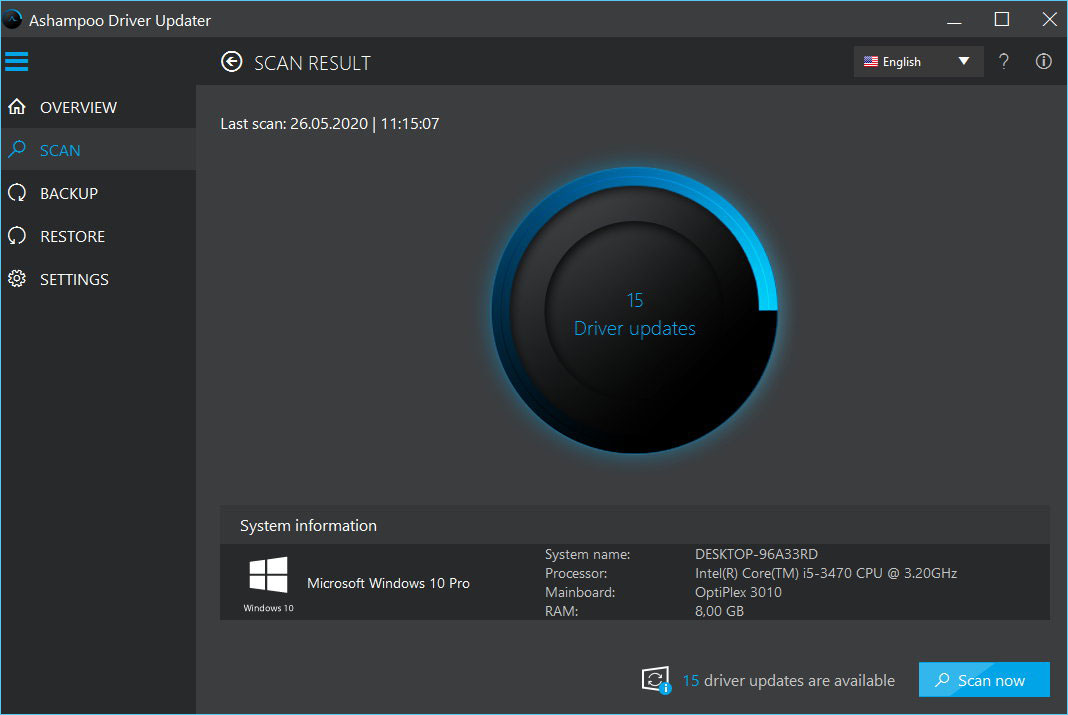 It is a highly functional driver updater software designed by Ashampoo. This best driver updater ensures that your system runs smoothly by updating all outdated drivers. The program also scans your entire system and detect the defected drivers which are making your system sloppy.
After scanning, you can select the drivers that needs to be updated immediately and others that can be updated sometime later. This is very simple and user-friendly Windows driver update software supports over 150,000 devices with more than 400,000 drivers database.

Also Read: Best Disk Cloning Software for Windows
10. Driver Easy
This is one of the best driver updater software for Windows in 2020 that is also available for free trial. The tool just scans your entire system and locate the outdated and missing drivers. And, you can update them all with the one click of your mouse. Apart from this feature, you can easily create a backup of your drivers to restore them in the future.
The free trial of the software is available on Windows XP, Vista, 7, 8, 8.1 and 10. Once you are satisfied with the free trial, then you can easily get the pro version of this software.
11. DriverMax
This is a best free driver updater software available for all the recent versions of Windows. It can automatically scan your entire system and find out the outdated device drivers that need to be updated or fixed immediately. You can even schedule a scan in advance with this program. You can easily backup your drivers before installing the updated version for future use.
12. Driver Reviver
Driver Reviver allows you to locate outdated drivers easily on your system and provides the facility to update them all with a single click. It even eliminates the risk of downloading infected software. This best driver updater software for Windows in 2020 protects you from downloading any wrong software in your computer. This easy to use software is stocked with essential features of driver backup and restoration.
13. Driver Genius
It is a quite unique Driver Updater tool as compared to the other software listed in the post. With the huge library of drivers, it could fit for every computer users. The software shows a message with the information of current software features as compared to the updated version features.
Once you click on scan, it will automatically display results and download drivers in the separate web pages. This advanced driver updater software is compatible with both 32 and 64 bit Windows versions and offers easy download.
14. Device Doctor
This driver updater is an excellent free software that can scan your drive for the update. Device doctors can also quarantine the disk drive and identify the availability of an update for the drive. The scanning and updating function is very fast and reliable. This tool provides supports for both 64-bit and 32-bit systems. This genuine software is having its database of 13 million drivers for different devices.
15. DriverFighter
Keeping an updated driver is mandatory for keeping up your diver's performance. Driver Fighter is the best driver updater tool that can elevate the system stability and performance. The requirement for an update can be identified by automatic scanning features of the tool. This tool can explore, locate and install the best suitable driver update from the software database available. This genuine software application is available as a basic free version and a paid version with full options.
Driver Update FAQ
How Do Drivers Work?
Whenever you connect new hardware device with your Windows system, then you need to install suitable driver software along with it. Most of the times these drivers are installed automatically on your system. Driver software helps in adjusting device with the working environment of the computer and enables the computer to locate the USB driver.
Why You Should Update Drivers?
To make sure that your hardware device works properly on your Windows system, you have to regularly update drivers, just like any other software. And for this constant support of Windows driver update software is required. 
How to Update Drivers Manually?
Windows offers built-in utility to help you update outdated drivers one-by-one. You can use Device Manager to update these drivers. To do this, follow these steps:
Search & select Device Manager in the search box on the taskbar.
On Device Manager window, expand one of the categories that you want to update driver for.
Once selected the device category, right-click on device and select Update Driver.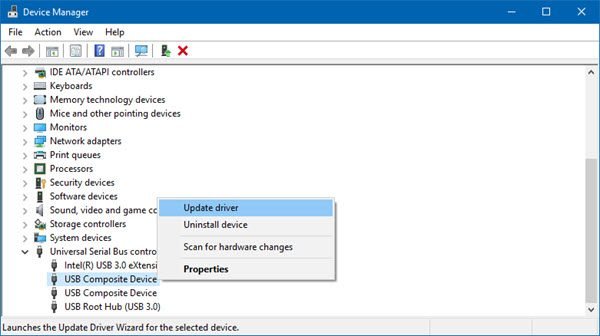 Once you click on Update driver you will find two options:
First, Search automatically for updated driver software that you can use to let Windows search & install latest driver updates on your PC automatically.
Second, Browse my computer for driver software that you can use to locate and install driver software manually from your PC.
Note: To use second option, you need to download the latest driver software from manufacturer website on your PC and then browse it to install.
Conclusion
By keeping your device drivers up-to-date, you can speed up Windows performance significantly. That's why if you want to enjoy using hardware tools on your computer, then you have to get the best driver updater software for Windows. Try one of these paid or free driver updater for your PC to boost Windows performance and save time.