10 Best Disk Partition Software for Windows 11 and 10 [2023]
The digital world has grown beyond comprehension in the past two decades. Gone are the days of having a paper trail. Everything you could possibly need is stored on your computer today. Insane amount of data can be fit into hard disks with utmost ease. But just like the filing system needed in the times of paperwork, a proper disk partition manager is required to manage your data on the computer in 2023.
Be it at home or at the office, with the best disk partition software for Windows 11/10/8/7, it becomes easy to create partitions on your hard drive and this in turns lets you proficiently arrange & manage files, folders, applications, and other kinds of data.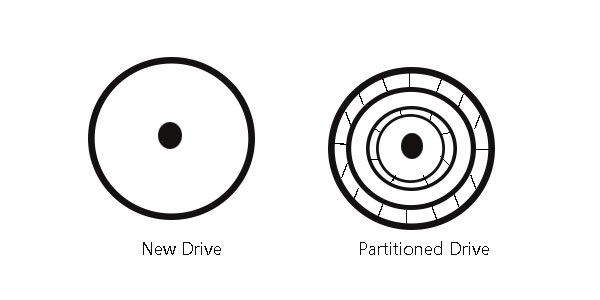 What is disk partitioning?
To set up a filing system or save any data on a hard drive, one needs to create a partition on the drive. Many computers come with a single partition on their drives but the storage devices in general are whole containers of empty unallocated space that needs to be partitioned before put to use. You cannot start writing files on a blank drive.
At least one container or partition with a file system needs to be created first. You can then create twenty partitions if need be but at least one is a necessity. Each of these partitions in your list of 20 can easily be separated from the others and have an independent file system as well. There are plenty of free partition manager software and disk management tools available for Windows 11, 10, 8, 7, and alike.
Why is disk partitioning needed?
Keeping all your data, files, applications and operating system on one partition might end up badly for you if something were to happen to the partition's index file (the file keeping a list of where all the data is).
Partitioning basically makes your computer treat the sections as separate units. If the operating system and the rest of the data are kept separately on different units, you can easily back up your data (documents, files, music and alike). This would be the case as the backup utility won't even copy the system, and apps can easily be downloaded again.
So, you will not lose any data in case something happens or you reformat or reinstall Windows. A good disk partition manager will help you achieve your goals with the utmost ease.
How to do disk partitioning?
There are two ways to partition a disk. You can either use the Windows' Disk Management Tool or get a disk partition software for Windows. It can be a free partition manager or a paid one.
With partition management software programs, you can easily create, delete, shrink, expand, or combine endless number of partitions on the hard drive and storage devices alike.
Now, let's look at 10 of the best disk partition software for Windows 11, Windows 10 or below.
Best Disk Partition Software for Windows 11/10/8/7 in 2023
The EaseUS Partition Master can format, copy, resize, move, clone, and manage disk partitions in the most convenient way possible. The software has three main features: Partition Manager, Partition Recovery Wizard and Disk & Partition Copy to solve all kinds of problems. It also supports Hardware RAID, MBR & GPT disks.
Significant Features-
Supported Unlimited Hard Disk Capacity
Resize/clone/merge/format/delete
wipe/check partitions
WinPE bootable disk
Partition Recovery
Migrate OS
Manage Dynamic Volumes
Intelligent partition adjustment
Command Line Supported
Business Usage
Supports Windows 11, 10, 8, 7, Vista, XP
The MiniTool Partition Wizard Pro is am advanced Windows partition manager that is great for disk conversion, system migration and even for data recovery works for basic and dynamic disks alike. The pro version is perfect for professionals and experienced users who want their partitions and conversions to run seamlessly. The supported hardware includes HDD, SSD, SSHD, External Hard drive, USB Flash drive, SD card, Dynamic disk, Hardware RAID.
Significant Features
Migrate OS to SSD
Convert System Disk from MBR to GPT
Convert NTFS to FAT
Convert dynamic to basic disk
Manage dynamic volume
Partition recovery
WinPE bootable media
License type 1-PC
Paragon Partition Manager is the best free disk partition software for Windows that is best suited for those who are looking for an all in one product. The Professional Edition of this software can offer a solution to any virtual problem that may come your way. This is also the only product in the market which will get you partitioning functions for both physical and virtual drives. With the Paragon VD technology, you can work on virtual hard drives like you work on physical ones. It adapts to all current hardware as well.
Significant Features
Create partition, format partition, assign drive letter
Move, resize, delete, split, merge partitions
Convert dynamic to basic MBR disks
Boot management and boot corrector3
Resume operations on major virtual volumes and VD technology
Supports Windows 11, 10, 8.1, 8 & 7
Supports MBR, GPT, Windows Storage Spaces, Microsoft Dynamic Disk4 (simple, spanned, striped, mirrored, RAID-5)
4. AOMEI Partition Assistant
With more than 30 valuable functions, AOMEIN Partition Assistant fulfils the needs for home, business, server users, and enterprise and service providers with the same quality. The most advanced edition of this Windows partition manager gives users lifetime free upgrades. With it, you are provided with profitable technical service for unlimited PCs and servers. You can use this software for unlimited companies and individuals.
Significant Features
Resize, Move, Create, Delete, Format, Split, Align and Merge partitions
Extend Partition Wizard, Disk Copy Wizard, Partition Copy Wizard, Partition Recovery Wizard, Make Bootable CD Wizard
Migrate OS to SSD or HDD
Wipe Hard Drive
Rebuild MBR
Windows to Go Creator
Integrate to Recovery Environment
5. Active@ Partition Manager
The Active@ Partition Manager deserves to be in the list of best disk partition software not just because of the features it provides but also because it is absolutely free. With this free partition manager software, you can easily create, delete, format and name the partitions on your device without having to shut down the system.
Significant Features
Adopted for HiDPI (high resolution displays)
GPT volume management and formatting
Intensive GUI
Restore deleted or damaged partitions
Recover deleted files or files from deleted or damaged partitions
Create and open disk images
Recover data from damaged RAID's
Low level disk editing
6. Tenorshare Partition Manager
This is yet another great addition to the list of best disk partition software. From optimizing your hard drive and taking control of your disk space from one dashboard, with Tenorshare HDD partition tool, users can simply change partition properties and capabilities (like drive letter or volume label) to make the partitions more recognizable.
Significant Features
Compatible with Windows 11, 10, 8, 7, XP, Vista
Supports external hard drives and USBs
Conversion between FAT, EXT, NTFS, HFS
Changes applied virtually post conversion
Convert from MBR to GPT disk and vice versa without data loss
HDD interface- SATA, SCSI, SSSD, IEEE and USB 3.0
Create, delete, format, resize any partition
7. GParted
This disk partition software for Windows can be run entirely without an existing OS on the computer. All one needs to do is burn the partition editor onto a CD or USB to run the software. Shut down the system, boot it from the USB drive and you are done. It is that easy.
Significant Features
Remove, format, expand, shrink, clone or hide partition
Changes applied instantly
Hide partitions easily
Supports file systems NTFS, EXT, HFS, FAT, F2FS, JFS, XFS
Change volume level of a drive for easy recognition
Works with any or no operating system
Also Read: Top 10 Disk Defragmenter for Windows
8. Cute Partition Manager
Cute Partition is an efficient disk management tool for Windows 10 and alike. It can be run remotely without an existing OS. The software has to be installed on a bootable device like a CD or a flash drive first. It is completely text-based which means, it cannot be worked upon with a mouse. It's all about the keyboard here.
Significant Features
Create or delete partitions
Download size quite small
Format a drive to any file system
Changes get queued up first and can be undone easily. Applied upon saving
Runs on any computer, with or without OS
Available for free download
9. Macrorit Partition Expert
This disk partition software for Windows is simply neat and hassle free. With no hidden menus and a list of functions on the side, Macrorit is a decent partition manager. The partition manager doesn't apply any changes on its own until and unless the user saves the changes with the 'Commit' button.
Significant Features
Good program interface
Portable option available
Resize, remove, copy, delete, and format partitions
Wipe a volume or change the volume's label
Convert between a primary and logical volume, run a surface test
4K alignment
10. IM-Magic Partition Resizer
This free partition manager installs quickly and is user friendly. The functions are easy to perform and all you have to do is right-click the device you want to make changes in. A real time update will be reflected to show how the changes would look when applied. Just click 'Apply Changes' and you are done.
Significant Features
Redistribute, copy, resize, move, convert partitions
Supports Windows 10, 8, 7, XP, Vista
Support UEFI/EFI boot
Support MBR disk and GPT disk
All storage devices recognized by Windows, such as RAID and alike
Traditional hard disk drives, solid-state drives (SSD), SSHD
Conclusion
The way one needs to organize books, notes, or even recipes, the same way one needs to organize data on a computer. With the best options for Partition Software for Windows 11/10/8/7 in 2023 to choose from, one can never go wrong. But still, pick out the one that suits your needs and budget. There are plenty of freeware software listed too. Get started from there and work your way up. Or just buy the best one. Your data is important and it should be safeguarded and filed with a good disk partition manager.
Choose wisely!
Let us know what you think of our list.
Leave a comment! Let's talk!

Recent Post
Learn how technology can help you manage liquidity in the modern era. Here you will find strategies for effective liquidity management and banking challenges.
Know how a digital product agency can help your build a successful business.
Searching for ways to create beautiful diagrams in a hassle-free way? You will get the best guidelines here. We will provide you with a detailed guide to easily create beautiful diagrams.
Here are the easiest steps to improve your checkout page and boost your online sales.
Here are the 7 signs that indicates you are ready to apply cashless system in your business.
Facing issues like your computer turns on but no display on monitor? Explore these nine ways to diagnose hardware or software problems in a functioning system.
Introduction: As technology continues to advance at an unprecedented pace, the importance of drivers on Windows operating systems cannot be overstated. Drivers are software components that allow your computer to communicate with hardware devices such as printers, graphics cards, and USB ports. Without proper drivers, your computer hardware would not function properly or at all, […]
Are you facing the frustrating issue of your PS4 controller charging but not connecting to your console? Explore these best seven fixes to resolve it.Introduction
Learn the best ways to use social media to help you generate leads and grow your business.
In a world driven by technology, finding the perfect gift for the tech enthusiasts in your life has never been more exciting. Whether they're gamers, gadget lovers, or tech-savvy professionals, there's an array of innovative and cutting-edge options that will leave them thrilled. From sleek gadgets to immersive gaming experiences, the world of tech gifts […]