Last updated on March 8th, 2020 at 05:14 am
If you are seasoned Windows user, then you should be knowing the performance issues caused over time due to various reasons. Here, your system may start showing diminishing performance due to numerous reasons including junk files, old & obsolete apps & programs, unnecessary system files, registry junk, browser cache, screen recordings, and more.
While manually cleaning all this data may consume lot of time & efforts, it doesn't even guarantee the accurate results. The next best solution to speed up outperforming Windows system should be to use best PC cleaning software. In this article, we have updated the list and reviewed some of these best PC cleaner for Windows (free & paid) that you should use in 2020.
Page Contents
Best Free PC Cleaner & Optimization Software for Windows 10, 8, 7 for 2020
11. Ashampoo WinOptimizer Free
20. Winzip System Utilities Suite
Top 21 PC Cleaner Software for Windows 2020 (Free & Paid)
There are tons of software out there that you can use to clean junk files and maintain your Windows properly. But, only a few of them work effectively and efficiently. Here's a list of such software that you can download and use:
CleanMyPC is a powerful free PC cleaner tool for Windows that scans your whole computer space to find and clean all junk files including cache & log files to speed up your PC. Here, it helps you clean traces of uninstalled programs to keep your system security intact. In addition to other useful features, it also helps you speed up your system boot time by managing startup items and fixing registry issues. In other features, it helps you cut down on unnecessary extensions, protect your online privacy, permanently erases your files securely and helps you manage hibernation files.
This smart PC optimization tool is trusted by millions of users around the world for improved performance. CCleaner offers one-click cleaning process to save your time and reduce manual efforts. It automatically performances a scanning of your system to find and remove all junk files efficiently. It helps you clean web browser history & cookies to offer you online privacy protection.
Further, it sends you automatic updates at regular intervals to keep your system performance smooth & faster. You can use its patented Windows registry cleaner feature to fix various registry errors including broken settings. It even helps you speed up Windows boot process by disabling unnecessary startup items. You can use this powerful PC cleaner to keep your system in good health in 2020.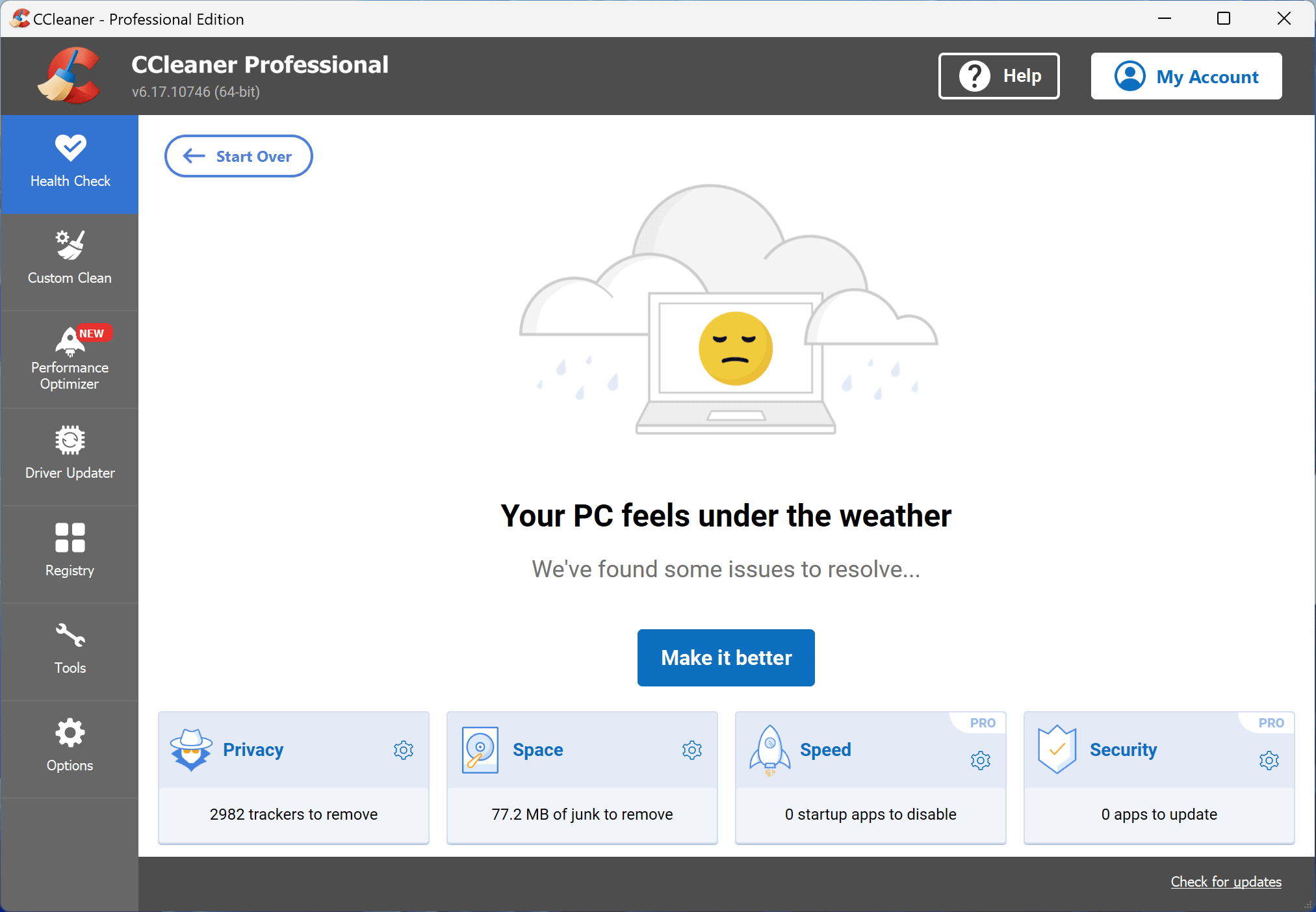 This is one of the well-established PC cleaning software out there. It's quite effective at removing junk files which eat up storage space and slow down your computer as well. Furthermore, this program comes with a special feature which helps you avoid any type of annoying advertisements and notifications while playing games. Additionally, it also offers a driver updater feature which helps you keep Windows drivers up to date.
One of the oldest and widely-used tools, Iobit Advanced System Care is a great PC Cleaner tool for Windows cleaning & maintenance. It not only helps you clean your PC, but also enhances the startup speed of your computer as well. With this tool, you can easily remove junk files and free up disk space. You can also use this program to clean apps and toolbars as well.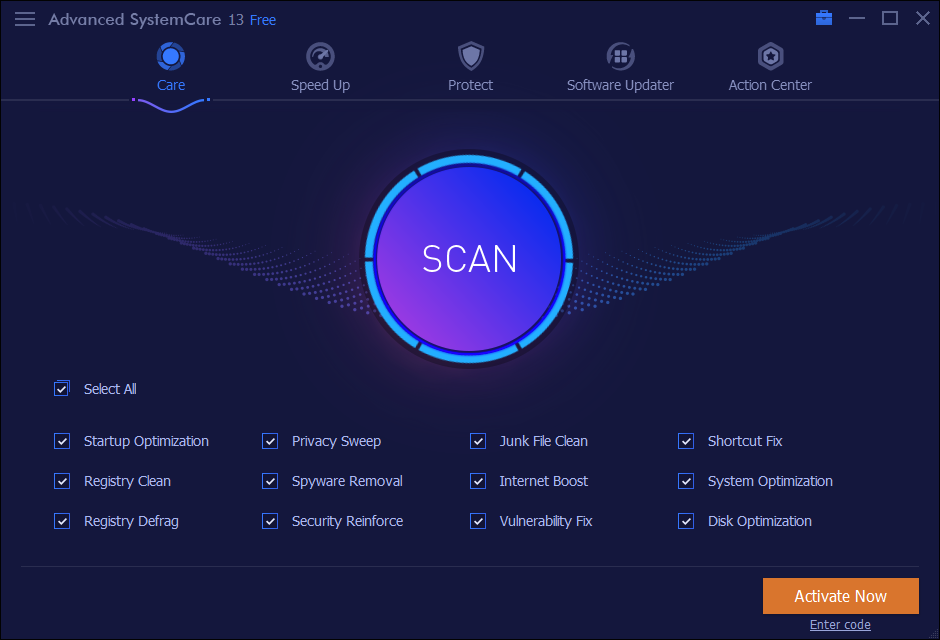 One of the sophisticated cleaners out there, Auslogics BoostSpeed offers a wide range of features that are quite effective and efficient. This tool is packed with all the essential features that help you get rid of junk files and restore system stability. Furthermore, you will also get privacy protection feature as well. In addition to that, you can also schedule automatic system maintenance.
Being one of the best PC cleaner for Windows, Super PC Care helps you keep your system clean and secure from various malware threats. This all-inclusive cleanup and maintenance suite for Windows helps you clean junk, remove malware, fix invalid registry errors, manage & disable unwanted startup programs, remove infected files & privacy traces, and more. You can use this powerful tool for instant & effective results.
Norton Utilities Premium is one of the best PC cleaner software for Windows that works on comprehensive technologies to help you keep your PC performance intact.  Working as an uninstaller tool, it helps you scan, detect & remove files or programs that you don't need any more. Its smart algorithms help you scan your system to find & fix system issues to keep your system running well. It cleans and speeds up your PC by fixing common issues that can cause frustrating slowdowns or crashes.
Clean Master for PC is best free PC cleaner for Windows 10, 8, 7 that helps you clean your system and keep your privacy intact in 2020. Here, its advanced system scans over 1000+ programs with single-click while searching and removing residual & junk files to clean up system storage. It helps you boost your system performance by speeding up boot time, and intelligently optimize system and network settings.
Its driver booster helps you scan and fix over five million drivers and devices to fix driver issues. Working as a privacy protector, it helps you fix various privacy issues by blocking unwanted access to programs and resolving privacy disclosure risks. In additional features, it offers file recovery, auto-update, junk auto-clean, file shredder, browser auto-clean, malware protection, and lot more.
Don't get confused with the name as this smart tool not only helps you find and fix registry errors effectively, but it also works as a powerful junk cleaner for your system too. While it clean, repair and optimize all invalid registry entries on your system, it also helps you clean your system effectively to avoid lags and crashes. Further, it helps you correct system or Internet settings and other issues to fix instability issues.
As a registry cleaner, it helps you review the registry entries to find and fix all corrupt entries seamlessly. This smart PC optimization tool works on industry standard quality features to offer you effective results. Here, it creates a restore point to help you roll back the changes anytime you want.
Also Read: Best Mac Cleaner & Optimization Software
This powerful PC cleaner utility offers abundant useful features to keep your system optimized for best performance. Here, it not only helps you find and clean all junk files on your system but it also helps you clean up disk space to speed up your PC performance. Further, it works on its patented "programs-On-Demand: technology to put all unnecessary programs into sleep mode to improve your system performance. In other features, it optimizes your system battery life, updates your essential programs, speed up the boot process, avoids system crashes and lot more.
Ashampoo WinOptimizer Free offers a bunch of useful features to keep your system performing well. You can use its 1-click PC optimization feature to clean and de-clutter system hard disk for improved performance. You can use this best free PC cleaner tool to repair invalid shortcuts, run hard disk benchmarks, clean browsing history, delete cookies, manage and customize context menus and do much more. Its numerous useful modules help you analyze, customize and optimize your system performance.
It further helps you protect your system privacy, boost boot process, and optimize Internet connection speed. Using one of its important features, you can permanently delete the sensitive data or protect it with encryption services. You can use its latest version to quickly analyze disk space to get better results.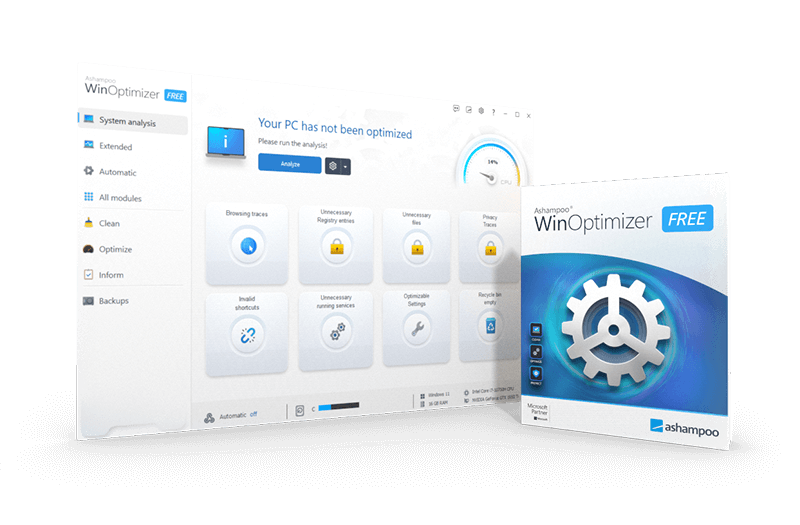 Glary Utilities is powerful PC cleaner & tuneup utility that offers numerous useful features to help you clean your system hard disk for improved performance. It offers more than 20 different tools to maximize your system speed & performance. Its one-click functionality reduces your load of cleaning your system manually. Using this tool, you not only manage to improve system performance but it also helps you fix frustrating errors, freezes, and crashes. Further, it is a useful tool to fix registry errors, clean disk, manage files, defrag hard disk and do lot more.
Also Read: How to Speed Up Windows 10 Boot Time
In the list of best free PC cleaner for Windows, Eusing Cleaner is another useful addition that makes your cleaning work effortless. This privacy cleaner and system optimization tool helps you detect and remove all unnecessary files including invalid registry entries, log files, temporary files, internet history, cache files, typed URLs, index.dat data from the browser, recycle bin and lot more. Further, this PC optimization tool offers a various useful plug-in to help you clean history of more than 150 third-party apps. It allows you to specify which files you want to delete and which you don't want to remove.
In addition to system cleaner, it also works as an effective registry cleaner tool for Windows. Here, it will scan your system registry to find and delete all invalid entries and errors to make your registry clutter free. You can use this best free PC cleaner tool for Windows 10 in addition to older versions. Further, it offers system defragmentation features to speed up your Windows performance significantly.
Being one of the best free PC cleaner software for Windows, The PC Decrapifier not only helps you get rid of unnecessary apps and programs on your system but it is also useful to clean your startup process. It works on an intuitive and user-friendly interface to help you easily find and clean all unnecessary junk stored on your system. This smart tool is designed to find and remove all unwanted software on your system to recover precious disk space while improving your system performance. Using this best free PC cleaner for Windows 10 and other versions, you can significantly improve your system performance in 2020.
If you're looking for an advanced program, Iolo System Mechanic is the way to go. This tool is equipped with many features which allow you clean your Windows and remove any type of junk files and apps that exploit the RAM. Furthermore, this program also offers privacy protection features as well. This software has been labeled as one of the best memory optimizer tools out there.
If you're a gamer who's looking for a way to enhance the performance of your Windows, Razer Cortex is the best bet. This multi-purpose system cleaning tool offers a multitude of features. Basically, this tool optimizes the RAM by removing any type of junk files that are lying deep in your computer. This tool operates by defragging the memory of your computer and eliminating all the necessary processes running in the background.
A lightweight, simply, and easy-to-use software, JetClean is one of the best pc cleaner software for Windows. Within just a few seconds, this efficient tool scans through the registry of your computer and lets you repair them. You can also enjoy features such as Apps Clean, Windows Clean, RAM Clean, and Shortcuts Clean. Overall, this is a great addition to your software list, as it helps you maintain your device properly.
Also Read: Best Antimalware for Mac
If you're searching for an advanced application that not only cleans your Windows but also offers additional features, BleachBit is the one. It comes with disk cleaning, cache removing, and cookie clearing features. This program also offers privacy guard feature as well. In addition to these, you can also use this tool to delete internet history, remove logs, shred files, and many more.
For someone who's looking for an all-in-one best PC cleaner software for Windows, Comodo System Utilities is the way to go. This is a powerful software that's actually a combination of several important mechanisms such as Privacy Cleaner, Registry Cleaner, Disk Cleaner, Shredder, and Autorun Manager. Basically, you get all the essential Windows cleaning and maintenance features at one place.
Another PC cleaning software that offers several extra features, Winzip System Utilities Suite is a famous tool. This program helps you optimize Registry and clean your disk by deleting junk files. Additionally, you can also update drivers, backup your data, and protect privacy through this tool. You can also automate the process of your system Maintenance as well.
Use Wise Care 365 for complete protection of your PC. It helps you protect your system privacy and make your PC run faster. During the process, it cleans and optimizes your PC for better performance. It protects your system in real-time by blocking apps that try to make modification in system apps without permission. This advanced PC cleaner for Windows helps you clean temporary files, log files, browser cache, cookies, download history, and more.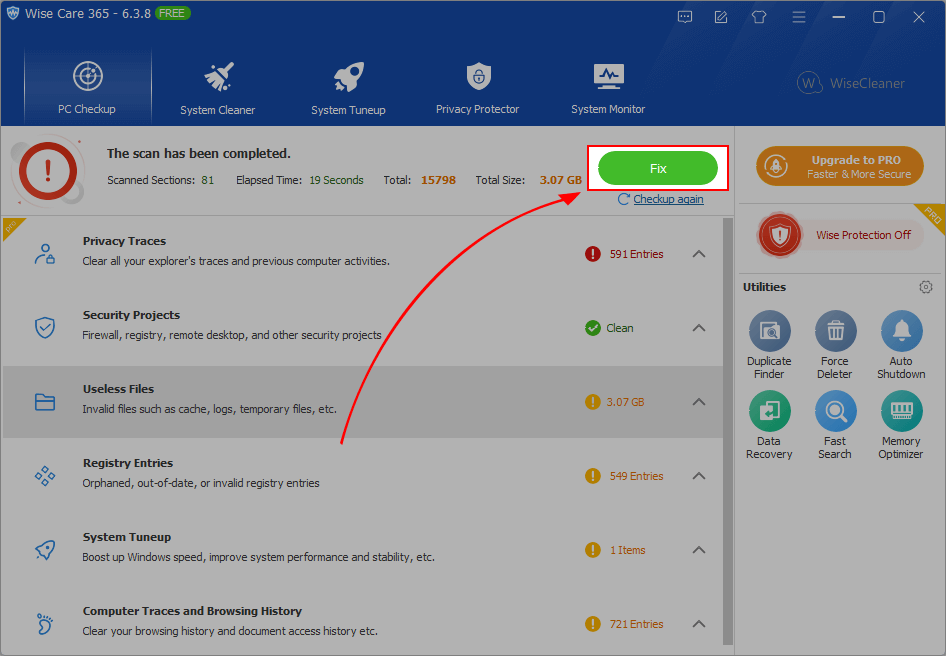 Conclusion
Each and every tool mentioned above has been thoroughly tested before getting listed here. If you've neglected your Windows maintenance, it's high time that you start it now. Download any of these best PC cleaner software for Windows for 2020 and start using. For a fast and secure PC, a cleaning software is a must. These tools offer free versions, but if you're interested in getting more features, you can go with the paid PC optimization versions. But, try them out first and see how it goes.
Next Read: Top 5 Anti-Malware Software for Windows
Cover Image: PCMag