10 Best Registry Cleaner For Windows 10 & 11 (Free & Paid) 2023
What Is The Windows Registry?
All the applications used in the Windows operating system need some user settings to be stored. Windows registry is a database containing all settings, options for both software and hardware available in the operating system. Settings of each program will be stored in subkeys created in the registry during the installation of the program.
The seamless working of the registry can be ensured with the aid of the best registry cleaners for Windows 10 and Windows 11.
1
2
3
CCleaner Professional
Auslogics Registry Cleaner
Advanced PC Cleanup
Can provide faster computer

Capable of protecting your privacy

Active system monitoring

Advanced registry cleaning options
Compatible with almost all types of Windows OS

Capable of searching a variety of registry issues

Can create groups with the detected errors

Automatically creates backups
Ability to scan and repair all registry entries

Can merge the fragmented files of the registry

Creates backup before resolving an issue

Better optimization capacity
What Causes Broken Registry Items?
There are various reasons for the failure of registry. Some of the most common reasons are explained below.
Registry may sometime fail due to the inclusion of harmful entries like Trojans, Viruses, Spyware, Adware, and Malware. While installing several applications, some files of the software will remain in the registry as Orphan keys. These files will affect the performance of the registry.
How To Fix Broken Registry Items?
The errors in the registry can be resolved using any one of the following techniques.
Backup and Restore the registry entry.
Scan the registry with a system file checker.
Resolve the errors with the help of the best registry cleaner software.
Useful Suggestion to Back Up The Computer
The best way to treat the registry errors is to create a backup of the entries which can be restored replacing the corrupt registry. This can be done with the following steps on Windows 10.
Step 1: Invoke the run tab from the start menu.
Step 2: Type (regedit.exe) in the run tab.
Step 3: Right-click on the 'Computer' option available on the top left-hand side of the registry window.
Step 4: Select the Export option to create a backup of the registry entry.

Step 5: Assign a name to the backup file and save it in system storage.

Best Registry cleaners for Windows 10 and Windows 11 for 2023
When the disputes with the registry entry cannot be rectified with the above-mentioned proceedings, it's advisable to rely on some of the free or paid registry cleaner software available on the web sources.
This page will brief about the best registry cleaner software for Windows and their features.
This registry cleaner for PC is the best solution that can be availed online for registry-related issues. This best registry cleaner is available as a freeware with limited features and a paid version with all features. The application is capable of ensuring privacy and can increase the processing speed of the computer safely.
The free version of the software will offer privacy protection with application usage management. Whereas the paid version is equipped with the software updater, automatic update and PC cleaning options. The free version of this tool is sufficient to clean the registry and other temporary entries.
Features
Can provide faster computer
Capable of protecting your privacy
Active system monitoring
Advanced registry cleaning options
Pros
Active support to resolve registry issues
Capable of repairing registry files
Increases the boot speed of your PC
Can clear lot of disk space
Cons
Limited trial period
Lack Of Customization features
Price:$29.95
Auslogics registry cleaner is reliable registry cleaner software that can effectively optimize the registry for errors. To access the full version of the software with extended options downloading a paid pro version is mandatory. This software ensures registry security and cleans the unwanted residual files of the registry.
Also, the registry repair software can quarantine the registry errors and can solve the registry issues. You can also use this tool to speed up boot process. Moreover, the performance of the system can be increased with periodical cleaning of residual and unwanted files.
Features
Compatible with almost all types of Windows OS
Capable of searching a variety of registry issues
Can create groups with the detected errors
Automatically creates backups
Pros
Advanced scanning options
Simple and easy to use interface
Faster scans
Advanced registry editor
Cons
Poor tutorials and tips
No multi-language support
Price: $29.95
This desktop software is one of the best free registry cleaners for Windows that can be availed from any of the reliable online sources. This application can examine the status of the registry and optimize the same for any issues to offer seamless user experience. When the registry scan is done, the registry repair software will provide a report with all errors encountered and their effects on system performance.
Features
Ability to scan and repair all registry entries
Can merge the fragmented files of the registry
Creates backup before resolving an issue
Better optimization capacity
Pros
Ensures uninterrupted usage of your PC
Reduce system errors
Faster computer performance
Clear up more space to store registry files
Cons
Expensive in comparison to other tools
The free version can fix only 15 errors
Price: $47.14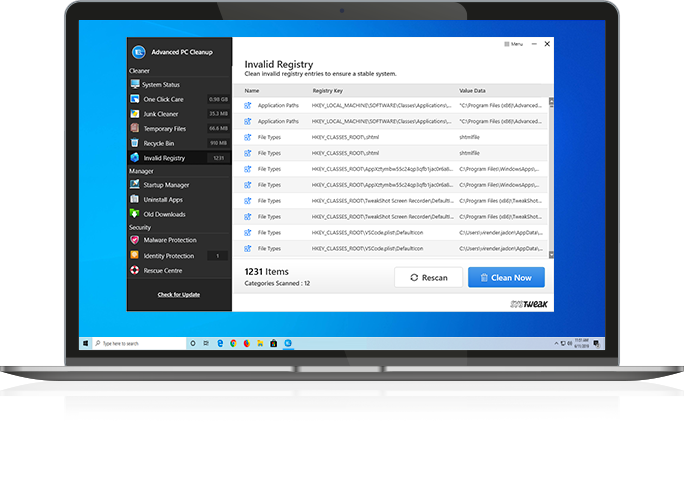 4. Wise Registry Cleaner Pro
As the name suggest, this software is wise in its operation and clears and secures registry effectively. This genuine registry cleaner for Windows 10/11 and earlier versions can be downloaded online for free. Wise Registry Cleaner is available as a standard free version and paid pro version with additional features. Apart from scanning and cleaning registry this efficient registry repair application can also create a backup of the registry and can restore the same.
Features
Can be used to clear registries of multiple users
Effective solves registry issues
Ability to create restoration points while fixing errors
Scheduled registry cleaning
Pros
Cleans the system down to the bottom
Secured cleaning functionality
Variety of options and features
Continuous customer support
Cons
Can make an unwanted change to your system setting
Requires frequent reboots
Price: $17.69
5. Iobit Advanced SystemCare 14 Pro
This advanced registry cleaner for PC could be availed and used for cleaning the unwanted junk files. Iobit software also assists in registry optimization. This app is capable of boosting up the internet speed by clearing the temporary files along with other unwanted files. The computer system enabled with this genuine application will enjoy elevated performance speed with the error-free operation.
Features
Capable of scanning and cleaning junk files
Turbo boost option can speed up your process
Optimizes the system startup
Secured operation
Pros
Improved competitive features
Low price
Enhanced private data security
Increases internet connectivity speed
Cons
User has to enable some features manually
Can slow down your PC
Price: Advanced System care: Free
Advanced System care pro: $16.77
6. Tweek Now Reg Cleaner
This awesome software can clean and optimize the operating system. Users can scan the entire system or they can choose files and folders of their choice for cleaning. This software will eventually delete the unwanted junk files available in the physical memory of the computer. Also, backup of registry files can be created for future restoration.
Features
Ultimate ability to clear registry entries created by browsing
Enhances the Windows performance
Clear the unwanted temp files
Formulate ideal network setting
Pros
Enhanced variety of modules
Easy user-interface
Can optimize your Windows settings
Simple registry cleaning option
Cons
Not suitable for all OS versions
Presence of minor bugs
Price: $17.70
7. Glary Soft Registry Repair
This free registry cleaner software is an efficient tool to enhance the performance of the system by removing unwanted file entries. This software can be assigned to operate automatically or can be accessed manually. Previous repairs and corrections made by the software can be reviewed by using Action keys available in the main interface of the software.
Features
Can identify invalid paths and files
Removes Adwares and spyware available in the registry
Locates and removes dead file extensions
Elaborate scan with the brief result
Pros
Creates backup file automatically
Detailed registry analysis
Improves system stability
Safe scanning engine
Cons
Cannot improve network connectivity speed
No unique futures available
Price: Free
8. Argente Registry Cleaner
This free registry scanner is a competent tool used in resolving registry errors and in discharging unwanted junk files from the system memory. Argente application is provided with a wizard-based user-interface which enables users to perform registry scans manually and automatically.
Features
Compatible with multiple Windows OS
Ability to restore registry files
Can elevate and maintain the performance level of the system
Faster system repairs
Pros
Extended dual analysis mode
Can retrieve the lost data
Automatic backup options
Automatic maintenance mode
Cons
Poor user-interface
Don't have scheduled scanning option
Price: Free
9. JetClean
This register repair software offers a simple interface with scheduled scanning and automatic backup features. Jet Clean is the free registry cleaner for Windows 10/11 one-click scanning capabilities. The application is available for 32-bit as well as 64-bit versions for various operating systems.
Features
One-click operation
Capable of cleaning Windows file
Enhance the PC boot and program startup speed
Terminates unwanted programs
Pros
Available as a portable version
Can identify registry issues
Scheduled scanning
Creates registry backups
Cons
Creates toolbar along with the software
More number of cookies
Price: JetClean is free to download
10. AML Registry Cleaner
AML is a cost-free registry cleaner for Windows 11/10 that can perform registry cleaning fast and smooth. Apart from registry files other junk files can be identified and cleared by this application. Also, the scanning can be customized as per the user requirements.
Features
Capable of monitoring the startup programs
Extensive ability to locate and remove junk files
Extendable file types
Availability of free additional tools
Pros
Simple User-interface
Inbuilt additional tools
Can exclude files from registry scan
Suitable for almost all Windows OS
Cons
Cannot create automatic backup
Slower scanning options
Price: Free
Summing Up
Cleaning the registry is a necessary operation to be done to ensure the smooth operation of the operating system. When the junk file is accumulated in the system, it will reduce the speed of operations which can be avoided by clearing the registry periodically.
This page will provide the reader with an enhanced view of different means and methods to scan and clear the unwanted registry entries. A detailed overview of the best registry cleaner and free registry cleaner is provided in this forum. Different registry cleaner for Windows 11/10/8/7 versions is enumerated with necessary download links. Try any of these powerful registry cleaners to keep your system in good health.

Recent Post
Learn how technology can help you manage liquidity in the modern era. Here you will find strategies for effective liquidity management and banking challenges.
Know how a digital product agency can help your build a successful business.
Searching for ways to create beautiful diagrams in a hassle-free way? You will get the best guidelines here. We will provide you with a detailed guide to easily create beautiful diagrams.
Here are the easiest steps to improve your checkout page and boost your online sales.
Here are the 7 signs that indicates you are ready to apply cashless system in your business.
Facing issues like your computer turns on but no display on monitor? Explore these nine ways to diagnose hardware or software problems in a functioning system.
Introduction: As technology continues to advance at an unprecedented pace, the importance of drivers on Windows operating systems cannot be overstated. Drivers are software components that allow your computer to communicate with hardware devices such as printers, graphics cards, and USB ports. Without proper drivers, your computer hardware would not function properly or at all, […]
Are you facing the frustrating issue of your PS4 controller charging but not connecting to your console? Explore these best seven fixes to resolve it.Introduction
Learn the best ways to use social media to help you generate leads and grow your business.
In a world driven by technology, finding the perfect gift for the tech enthusiasts in your life has never been more exciting. Whether they're gamers, gadget lovers, or tech-savvy professionals, there's an array of innovative and cutting-edge options that will leave them thrilled. From sleek gadgets to immersive gaming experiences, the world of tech gifts […]