10 Best Mac Game Boosters & Optimizers for 2023
Mac has never been a machine to play hardcore games. Mac games have always been on the sophisticated and graphic-rich side. However, to play top-rated games, gamers require a powerful and simple platform, which Apple proudly offers. Therefore, Mac might not be designed to play games, but it can become one with a little tweaking. By tweaking, we mean with Mac game booster software, gamers can improve their MacBook efficiency to play mainstream games. Thus, today we are going to learn about the top ten game optimizers for Mac. 
Top 10 Game Boosters for Mac to Improve Gaming Experience
In the Mac game optimizer market, there are various enigmatic brands available, including CCleaner, IObit, Systweak software, and many more. Therefore, we took liability to analyze all the top game boosters for Mac and shortlisted the ten best ones for our readers.
App Rating – 4.3/5
Number of Downloads – N/D
Compatible MacOS – MacOSX 11 or later
Price – Starts from $20.99
Whether you want the best Mac game optimizer for home or work purposes, you can trust the AVG TuneUp. It can make your old MacBook a new one with revamped Sleep Mode technology to boost performance and speed. Furthermore, it can free up lots of space in your disk to play bulky games.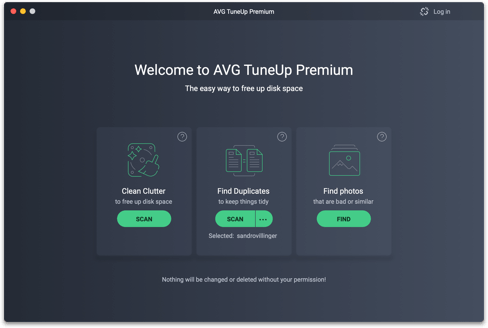 Wonderful Features
With automatic maintenance, you'll never have to worry about bugs, crashes, or freezes.
Your game stuttering issue will be permanently resolved with Sleep Mode.
It can put unnecessary software and programs—when they aren't required.
Unwanted bloatware can be detected and removed for fast performance.
Pros
Clean design.
Reduce startup time.
Easily delete unnecessary data.
Cons
Need some UI improvements.
App Rating – 4.8/5
Number of Downloads – 47,250+
Compatible MacOS – macOS X 10.8 to 10.14 Mojave
Price – Basic free version. Professional for $19.95.
CCleaner is a pure crap cleaner that can thoroughly clean your MacBook and allow you to smoothly play hardcore games. It is a freeware Mac game optimizer that can clean unused files and folders from your system and boost its effectiveness, speed and free up loads of space. When you are facing glitches while playing your favorite video games, simply press a button on CCleaner, and your system will be ready to host heavy games.
Wonderful Features
When your Mac runs super slow, you can instantly tap on CCleaner and get rid of all junk files. It can power up boot times with easy management of Startup items.
You can sort chaotic recycle bin, temporary files and folders, broken permissions, and uninstall old software with one click.
For safe and fast web browsing, it can erase cookie clutter from your system.
Software is fully customizable; you can exclude or include any program while running cleaner.
Pros
Quick to install.
Free tool.
Easy to use.
Multiple platform support.
Cons
It's a bundled software, so you have to manually disable its uninstallation.
App Rating – 4/5
Number of Downloads – 250 million+
Compatible MacOS – MacOS X 10.9 or later
Price – The lite version for $39.95. The standard version for $59.95.
Whether you wish to secure your MacBook or amplify its performance, MacBooster is capable of performing multiple optimization activities. This game booster for Mac has received a position in our listicle because it can—clean junk files, secure systems, remove system vulnerabilities, accelerate performance, and so much. It is a perfect tool to play online games with your friends as it can provide safety against all kinds of online threats.
Wonderful Features
MacBooster has five furious cleaner tools that can remove gigabytes from your junk files and free up hard disk space to enhance the Mac system's performance.
It can address technical problems like disk permission, high Mac RAM consumption, and login startup items.
Turbo Boost, Startup Optimization, and Memory Clean are three MacBooster groundbreaking features.
It can provide protection against adware, malware, spyware, virus, and other online system threats.
Pros
Great UI.
Swift scanning.
Virus and malware support.
Cons
Unwanted installation insurance.
App Rating – 5/5
Number of Downloads – N/D
Compatible MacOS – macOS 10.12 (macOS Sierra) or later
Price – Free version. One device version for $9.99. Three device version for $19.99.
Trend Micro is a leading cybersecurity company that has developed numerous security and performance optimization tools by far. Cleaner One Pro is the finest Mac game optimizer by the company that can seamlessly vanquish browser history, passwords, sensitive files, and tracking cookies. It is a highly customizable and compatible tool, which can easily coordinate with other Trend Micro products to boost your Mac's gaming abilities.
Wonderful Features
With the centralized toolbar, you can miraculously smooth your Mac functionality by monitoring CPU Usage, Network Usage, and Memory Usage.
The software cleaner is very useful with junk files, big files, duplicate files, similar photos, and disk mapping functions.
Startup and App Managers enable multiple app management a seamless process.
By tweaking with Secure Erase Setting, you can shred deleted apps and files and make them unrecoverable.
Pros
Beautiful layout.
Centralized Mac toolbar.
Easy to install.
Strong functionality.
Cons
Requires more security features.
Slow system updates.
App Rating – 4.2/5
Number of Downloads – 15 million+
Compatible MacOS – MacOS 10.9 or later
Price – Basic free trial. Costs $90 or $45 for existing users.
If you are looking for a simple and user-friendly game booster for Mac, CleanMyMacX is your tool. It can fix practically all the Mac performance issues, including deleting junk files, useless apps, threatening malware, etc. It can turn your Mac system into a high-speed machine to play heavy loading games with ease. 
Wonderful Features
The tool has the potential to clean invisible cache files, unused DMGs, incomplete downloads, massive hidden programs, and much more.
Interactive Space Lens map out your entire drive so you can visually spot the large files.
Full-scale MacOS optimization disables apps that cannibalize your Mac's memory.
It helps in securing your Mac system with Gold level virus detection.
Delete tracking cookies and preserve your privacy.
Pros
Easy to use.
Scan fast.
Effective and efficient.
Cons
Limited features in a free trial.
App Rating – 4.5/5
Number of Downloads – N/D
Compatible MacOS – OS X 10.9 or later.
Price – $58.94
It is a certified game booster and optimizer for Mac. The software can take clutter away from your system by providing high-end privacy and security features. The software cleaner can perform multiple different activities such as uninstall unwanted files, remove duplicates, delete incomplete downloads, etc. It is a well equipped Mac game booster with summarized reporting to keep your gameplay smooth.
Wonderful Features
Malware Scan keeps your Mac protected from various infections like adware, malware, spyware, etc.
Junk Scan smartly removes unused and unwanted files with one click.
Browsing web history and erasing tracking cookies is eased with a quick Privacy Scan.
The software consists of numerous Advanced Tools, including Uninstaller, Duplicate Finder, Failed Downloads, and Login Items.
Pros
Money-back guarantee.
One tap solutions.
Advanced cleaning and privacy options.
Cons
Features can't be customized.
App Rating – 5/5
Number of Downloads – N/D
Compatible MacOS – MacOS 10.7 or later
Price – $10.99
With an army of features, it is a robust Mac game optimizer. It can deep clean your disk by handling app cache, old downloads, unwanted software, and language packs. Additionally, it is developed by Systweak to empower gamers under a small budget. The software is compatible with almost all the Mac versions, so you can also use it on your old system. 
Wonderful Features
It can scan and erase year or a day older downloaded files or software.
Incomplete downloads and junk files can be removed.
All the cleaning features can be performed with one tap.
You can do deep scanning to recognize and remove apps and system cache.
Pros
One-click cleaning.
Compatible with older Mac versions.
Cons
App Rating – 2.5/5
Number of Downloads –
Compatible MacOS – MacOSX 10.9 or later
Price – Free basic version. A premium plan for $119.40.
MacKeeper is your Mac system's gatekeeper as it can secure as well as optimize. It is the best Mac game booster in our eyes as it can protect privacy, viruses, and other online threats from infecting your Mac. Additionally, performance-enhancing and Mac tracking features are highly appreciative.
Wonderful Features
It can scan your entire disk and figure out all the causes behind your Mac's slow speed.
You can easily download or play online games with the MacKeeper protection layer.
It is the most lightweight cleaning tool to remove junk files, local mail attachments, etc.
With one click, you can instantly free up your Mac memory space to download your favorite video games.
Pros
Quick cleanup.
Memory cleaner.
Shredder lets you clean the trash folder forever.
Cons
Limited features for free users.
Don't excel in malware protection.
Various useless features.
App Rating – 9/10
Number of Downloads – N/D
Compatible MacOS – MacOSX 10.9 or later
Price – Free up to 500 MBs cleaning. Full version for $40.
Here, the next superb game booster for Mac—Movavi Mac Cleaner. The software can clean big GBs and seamlessly improve the power of your Mac. With one-click clean, you can easily clean your system, or you can customize the cleaning process. It can erase cache files, log files, unused files, duplicate files, and even trash bin files.
Wonderful Features
You can use System Cleanup to remove different log files.
By clicking on Detailed Results, you can select between certain files.
Trash Cleanup can permanently shred your deleted files.
To improve performance and speed, you can Uninstaller to remove unwanted files.
Pros
Cons
Require some system improvements.
App Rating – 4.5/5
Number of Downloads – N/D
Compatible MacOS – OS X 10.7 or later
Price – Free trial.
This is a power-packed game optimizer for Mac users. The tool is ideal for verifying disk, structuring system files, configuring parameters, etc. With this app, you can clean the disk, remove cache, and rebuild databases. It comes with Terminal Command, but it's optional. 
Wonderful Features
Deep-rooted system cleaning is possible.
It offers some other utilities also including—screen sharing, storage manager, etc.
Slow Mac can be powered with accurate and fast system cleaning.
Pros
Good for beginners.
Uninstall widgets.
Helps with space management.
Cons
No security features.
To use certain features accessing Terminal is required.
Let's Boost Mac
If your Mac slows down, shutters, or crashes while playing your favorite games, don't suffer because you can fix it with—a Mac game booster. So, don't compromise with your gaming experience and download the best ten-game optimizer for Mac in 2023. 
Recent Post
Introduction: Screen sharing has become crucial for seamless interaction in today's interconnected world. With remote work, project collaborations, and staying connected being our everyday essentials, screen-sharing apps have evolved to meet our on-the-go needs, aligning perfectly with our constant companions. Well, you guessed it right, our smartphones and tablets. In this blog post, we have […]
Introduction: Are you ready to supercharge your Mac's capabilities by connecting an external hard drive? Well, before you can embark on this storage adventure, there's an important task at hand: formatting your external hard drive to work seamlessly with your Mac. Don't worry, we've got you covered! In this comprehensive blog post, we'll walk you […]
Introduction: In the realm of remote server management and secure network communication, PuTTY has earned a reputation as a reliable and versatile tool. Originally designed for Windows, PuTTY has expanded its reach to include other operating systems, including macOS, to cater to the needs of a wider user base. Hence, if you're a Mac user […]
Introduction: Whether as an individual or a professional, we are all strictly reliant on technology in some or the other way. And amidst this, encountering frustrating issues like a black screen at boot hits us like a roadblock. The black screen boot issue can affect both laptops and desktop computers running various versions of Windows. […]
Introduction: Among many common Windows errors, the "network discovery is turned off" error is an annoying obstacle that disrupts your workflow. Whether you're trying to share files, stream media, or access shared printers, encountering this error can be perplexing and disruptive. The good news is that understanding the causes and solutions for this error can […]
Introduction: Gone are the days of sifting through endless search results. With Bing, powered with ChatGPT, you can now ask questions in plain language and receive instant, personalized answers tailored to your needs. It's like having a conversation with a knowledgeable search assistant right at your fingertips. So, agree or not, you are definitely in […]
Introduction: In today's fast-paced digital world, maximizing productivity is the key. Period. And being able to juggle multiple tasks seamlessly is a skill worth mastering. If you're a Mac user looking to boost your multitasking abilities, you're in luck. Apple's macOS offers a powerful feature known as Split Screen, which allows you to effortlessly divide […]
Introduction: In the world of productivity, every single second counts. The last thing anyone wants is to be hindered by unnecessary obstacles while using their computer. One such obstacle is the lock screen that appears every time you wake up your Windows device. Though it may appear as a minor inconvenience, those valuable seconds spent […]
Introduction Mobile phones are the necessary daily gadget that functions the maximum amount of work for the user and help to communicate with people. It will be a disaster if you lose your iPhone anywhere on the street or office and have no idea how to recover it. Mostly you will panic and return to […]
Introduction You may create Google custom maps that do not appear on anyone's page by going to maps.google.com and using one of the many available choices. You do not need specialized software to make a unique map for you or someone else. All you require is Google Maps, which enables you to create a personalized […]