10 Best Mac Game Boosters & Optimizers for 2023
Mac has never been a machine to play hardcore games. Mac games have always been on the sophisticated and graphic-rich side. However, to play top-rated games, gamers require a powerful and simple platform, which Apple proudly offers.
Therefore, Mac might not be designed to play games, but it can become one with a little tweaking. By tweaking, we mean with Mac game booster software, gamers can improve their MacBook efficiency to play mainstream games. Thus, today we are going to learn about the top ten game optimizers for Mac.
What is a Game Booster for Mac?
A game booster for Mac is like a turbocharger for your computer when you want to play video games. Imagine your Mac is a car, and games are the road trips you take. Sometimes, games need a lot of power to run smoothly, just like a car needs more fuel to go fast on highways.
So, a game booster helps your Mac use its resources more efficiently, like giving your car a boost of speed. It shuts down unnecessary background tasks and processes that might slow down your Mac, freeing up its power for the game. This can make your games run faster, with fewer hiccups, and provide a better gaming experience overall. It is a well-designed tool that makes sure your Mac is all set to give you the best performance possible while you're playing games.
Top 5 Mac Game Boosters: A Quick Comparison
Here are the 5 best game boosters for Mac in a quick nutshell so that you can make an informed decision:;
| Tool | Speed & Performance | User Interface | USP | Price |
| --- | --- | --- | --- | --- |
| AVG TuneUp | Moderate | User-friendly | All-in one utility suite | Paid |
| CCleaner | Moderate | Intuitive | Cleaning and Optimization | Freemium |
| IoBit MacBooster | Moderate | Sleek | One-Click Optimization | Freemium |
| CleanMyMac X | High | Modern | Smart Scanning | Paid |
| TuneupMyMac | Moderate | Simple | Comprehensive Optimization | Paid |
NOTE: Prices can also change over time, so it's recommended to check the official websites for the most up-to-date pricing information.
Top 10 Game Boosters for Mac to Improve Gaming Experience
In the Mac game optimizer market, there are various enigmatic brands available, including CCleaner, IObit, Systweak software, and many more. Therefore, we took liability to analyze all the top game boosters for Mac and shortlisted the ten best ones for our readers.
App Rating – 4.3/5
Number of Downloads – N/D
Compatible MacOS – MacOSX 11 or later
Price – Starts from $20.99
Whether you want the best Mac game optimizer for home or work purposes, you can trust the AVG TuneUp. It can make your old MacBook a new one with revamped Sleep Mode technology to boost performance and speed. Furthermore, it can free up lots of space in your disk to play bulky games.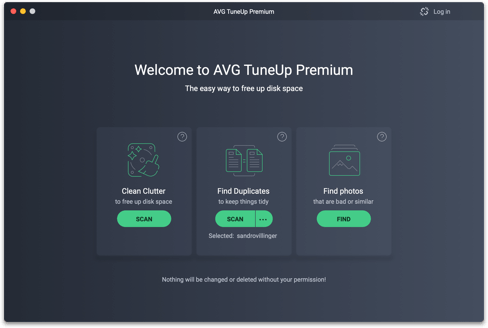 Wonderful Features
With automatic maintenance, you'll never have to worry about bugs, crashes, or freezes.
Your game stuttering issue will be permanently resolved with Sleep Mode.
It can put unnecessary software and programs—when they aren't required.
Unwanted bloatware can be detected and removed for fast performance.
Pros
Clean design.
Reduce startup time.
Easily delete unnecessary data.
Cons
Need some UI improvements.
App Rating – 4.8/5
Number of Downloads – 47,250+
Compatible MacOS – macOS X 10.8 to 10.14 Mojave
Price – Basic free version. Professional for $19.95.
CCleaner is a pure crap cleaner that can thoroughly clean your MacBook and allow you to smoothly play hardcore games. It is a freeware Mac game optimizer that can clean unused files and folders from your system and boost its effectiveness, speed and free up loads of space. When you are facing glitches while playing your favorite video games, simply press a button on CCleaner, and your system will be ready to host heavy games.
Wonderful Features
When your Mac runs super slow, you can instantly tap on CCleaner and get rid of all junk files. It can power up boot times with easy management of Startup items.
You can sort chaotic recycle bin, temporary files and folders, broken permissions, and uninstall old software with one click.
For safe and fast web browsing, it can erase cookie clutter from your system.
Software is fully customizable; you can exclude or include any program while running cleaner.
Pros
Quick to install.
Free tool.
Easy to use.
Multiple platform support.
Cons
It's a bundled software, so you have to manually disable its uninstallation.
App Rating – 4/5
Number of Downloads – 250 million+
Compatible MacOS – MacOS X 10.9 or later
Price – The lite version for $39.95. The standard version for $59.95.
Whether you wish to secure your MacBook or amplify its performance, MacBooster is capable of performing multiple optimization activities. This game booster for Mac has received a position in our listicle because it can—clean junk files, secure systems, remove system vulnerabilities, accelerate performance, and so much. It is a perfect tool to play online games with your friends as it can provide safety against all kinds of online threats.
Wonderful Features
MacBooster has five furious cleaner tools that can remove gigabytes from your junk files and free up hard disk space to enhance the Mac system's performance.
It can address technical problems like disk permission, high Mac RAM consumption, and login startup items.
Turbo Boost, Startup Optimization, and Memory Clean are three MacBooster groundbreaking features.
It can provide protection against adware, malware, spyware, virus, and other online system threats.
Pros
Great UI.
Swift scanning.
Virus and malware support.
Cons
Unwanted installation insurance.
4. Trend Micro Cleaner One Pro
App Rating – 5/5
Number of Downloads – N/D
Compatible MacOS – macOS 10.12 (macOS Sierra) or later
Price – Free version. One device version for $9.99. Three device version for $19.99.
Trend Micro is a leading cybersecurity company that has developed numerous security and performance optimization tools by far. Cleaner One Pro is the finest Mac game optimizer by the company that can seamlessly vanquish browser history, passwords, sensitive files, and tracking cookies. It is a highly customizable and compatible tool, which can easily coordinate with other Trend Micro products to boost your Mac's gaming abilities.
Wonderful Features
With the centralized toolbar, you can miraculously smooth your Mac functionality by monitoring CPU Usage, Network Usage, and Memory Usage.
The software cleaner is very useful with junk files, big files, duplicate files, similar photos, and disk mapping functions.
Startup and App Managers enable multiple app management a seamless process.
By tweaking with Secure Erase Setting, you can shred deleted apps and files and make them unrecoverable.
Pros
Beautiful layout.
Centralized Mac toolbar.
Easy to install.
Strong functionality.
Cons
Requires more security features.
Slow system updates.
5. CleanMyMac X
App Rating – 4.2/5
Number of Downloads – 15 million+
Compatible MacOS – MacOS 10.9 or later
Price – Basic free trial. Costs $90 or $45 for existing users.
If you are looking for a simple and user-friendly game booster for Mac, CleanMyMacX is your tool. It can fix practically all the Mac performance issues, including deleting junk files, useless apps, threatening malware, etc. It can turn your Mac system into a high-speed machine to play heavy loading games with ease.
Wonderful Features
The tool has the potential to clean invisible cache files, unused DMGs, incomplete downloads, massive hidden programs, and much more.
Interactive Space Lens map out your entire drive so you can visually spot the large files.
Full-scale MacOS optimization disables apps that cannibalize your Mac's memory.
It helps in securing your Mac system with Gold level virus detection.
Delete tracking cookies and preserve your privacy.
Pros
Easy to use.
Scan fast.
Effective and efficient.
Cons
Limited features in a free trial.
6. TuneupMyMac
App Rating – 4.5/5
Number of Downloads – N/D
Compatible MacOS – OS X 10.9 or later.
Price – $58.94
It is a certified game booster and optimizer for Mac. The software can take clutter away from your system by providing high-end privacy and security features. The software cleaner can perform multiple different activities such as uninstall unwanted files, remove duplicates, delete incomplete downloads, etc. It is a well equipped Mac game booster with summarized reporting to keep your gameplay smooth.
Wonderful Features
Malware Scan keeps your Mac protected from various infections like adware, malware, spyware, etc.
Junk Scan smartly removes unused and unwanted files with one click.
Browsing web history and erasing tracking cookies is eased with a quick Privacy Scan.
The software consists of numerous Advanced Tools, including Uninstaller, Duplicate Finder, Failed Downloads, and Login Items.
Pros
Money-back guarantee.
One tap solutions.
Advanced cleaning and privacy options.
Cons
Features can't be customized.
7. DiskCleanPro
App Rating – 5/5
Number of Downloads – N/D
Compatible MacOS – MacOS 10.7 or later
Price – $10.99
With an army of features, it is a robust Mac game optimizer. It can deep clean your disk by handling app cache, old downloads, unwanted software, and language packs. Additionally, it is developed by Systweak to empower gamers under a small budget. The software is compatible with almost all the Mac versions, so you can also use it on your old system.
Wonderful Features
It can scan and erase year or a day older downloaded files or software.
Incomplete downloads and junk files can be removed.
All the cleaning features can be performed with one tap.
You can do deep scanning to recognize and remove apps and system cache.
Pros
One-click cleaning.
Compatible with older Mac versions.
Cons
8. MacKeeper
App Rating – 2.5/5
Number of Downloads –
Compatible MacOS – MacOSX 10.9 or later
Price – Free basic version. A premium plan for $119.40.
MacKeeper is your Mac system's gatekeeper as it can secure as well as optimize. It is the best Mac game booster in our eyes as it can protect privacy, viruses, and other online threats from infecting your Mac. Additionally, performance-enhancing and Mac tracking features are highly appreciative.
Wonderful Features
It can scan your entire disk and figure out all the causes behind your Mac's slow speed.
You can easily download or play online games with the MacKeeper protection layer.
It is the most lightweight cleaning tool to remove junk files, local mail attachments, etc.
With one click, you can instantly free up your Mac memory space to download your favorite video games.
Pros
Quick cleanup.
Memory cleaner.
Shredder lets you clean the trash folder forever.
Cons
Limited features for free users.
Don't excel in malware protection.
Various useless features.
9. SpeedUpMac
App Rating –4.5/10
Number of Downloads – N/D
Compatible MacOS – macOS Big Sur 11, Catalina 10.15, Mojave 10.14, 10.13, 10.12, 10.11, 10.10 &
10.9
Price – Free for 30 days. Full version for $39.99.
SpeedUpMyMac: Game Booster by Stellar is the ultimate solution to rejuvenate your Mac's performance and elevate your gaming experience to new heights. This powerful Mac cleaner utility is meticulously designed to optimize your system and provide you with a seamless and immersive gaming environment.
With SpeedUpMyMac, you can bid farewell to sluggish performance and welcome a lightning-fast Mac that's ready to tackle your gaming adventures head-on. By harnessing its advanced capabilities, this application efficiently identifies and eradicates duplicate files, redundant data, and other unwanted clutter that may be bogging down your system's speed. Say goodbye to interruptions and lags while gaming, as SpeedUpMyMac focuses on streamlining your Mac's resources, ensuring that your favorite games run smoothly without any hindrances.
Wonderful Features:
Optimize your Mac's resources specifically for gaming, reducing lags and interruptions.
Remove unnecessary files and data that can slow down your Mac's performance.
Identify and eliminate duplicate files to free up valuable storage space.
User-friendly design for easy navigation and optimization, suitable for all users.
Pros:
Enhances the gaming experience by optimizing system resources.
Eliminate unnecessary files for improved overall Mac speed.
Cons:
The tool is not primarily focused on gaming optimization and may lack broader system utilities.
10. Onyx
App Rating – 4.5/5
Number of Downloads – N/D
Compatible MacOS – OS X 10.7 or later
Price – Free trial.
This is a power-packed game optimizer for Mac users. The tool is ideal for verifying disk, structuring system files, configuring parameters, etc. With this app, you can clean the disk, remove cache, and rebuild databases. It comes with Terminal Command, but it's optional.
Wonderful Features
Deep-rooted system cleaning is possible.
It offers some other utilities also including—screen sharing, storage manager, etc.
Slow Mac can be powered with accurate and fast system cleaning.
Pros
Good for beginners.
Uninstall widgets.
Helps with space management.
Cons
No security features.
To use certain features accessing Terminal is required.
Let's Boost Mac
If your Mac slows down, shutters, or crashes while playing your favorite games, don't suffer because you can fix it with—a Mac game booster. So, don't compromise with your gaming experience and download the best ten-game optimizer for Mac in 2023.
FAQs:
Q: How can I improve my Mac Gameplay?
Lower graphics settings, close background apps, update graphics drivers, ensure your Mac has enough free storage space, and keep your system updated.
Q: Do game boosters increase FPS?
Game boosters can help improve FPS by optimizing system resources for gaming, but the actual impact may vary depending on the specific game and system configuration.
Q: Does adding RAM increase FPS in games?
Adding RAM can increase FPS if your Mac previously had insufficient memory for smooth gameplay, but the improvement might not be significant if you already had enough RAM.
Q: Are Game Boosters Worth It?
The effectiveness of game boosters varies based on individual system configurations and the specific games played. While they can optimize resources and improve performance for some users, their impact may not be significant for everyone. It's essential to consider your specific needs and do research before deciding if a game booster is worth it for you.
Recent Post
Explore effective solutions for typical iOS 17 issues. From addressing slow performance to tackling app crashes, discover valuable tips to improve your iPhone's digital experience
Learn how technology can help you manage liquidity in the modern era. Here you will find strategies for effective liquidity management and banking challenges.
Know how a digital product agency can help your build a successful business.
Searching for ways to create beautiful diagrams in a hassle-free way? You will get the best guidelines here. We will provide you with a detailed guide to easily create beautiful diagrams.
Here are the easiest steps to improve your checkout page and boost your online sales.
Here are the 7 signs that indicates you are ready to apply cashless system in your business.
Facing issues like your computer turns on but no display on monitor? Explore these nine ways to diagnose hardware or software problems in a functioning system.
Introduction: As technology continues to advance at an unprecedented pace, the importance of drivers on Windows operating systems cannot be overstated. Drivers are software components that allow your computer to communicate with hardware devices such as printers, graphics cards, and USB ports. Without proper drivers, your computer hardware would not function properly or at all, […]
Are you facing the frustrating issue of your PS4 controller charging but not connecting to your console? Explore these best seven fixes to resolve it.Introduction
Learn the best ways to use social media to help you generate leads and grow your business.