10 Best Antimalware For Mac in 2023 (Free & Paid)
According to numerous reports, sustainable growth in the Mac viruses attack has been recorded in the past few years. Cybersecurity is a big issue in front of the world today, it has become very hard day by day to control the malware attacks for Operating Systems.
This is the biggest reason that every leading OS platform recommends its users to install best antivirus for Mac, Windows and other operating systems.
Is Mac safe?
Well, if you are a MacBook user and think that you are highly secured, then you are partially correct. Partially because Apple computers are indeed more secure, then the Windows or Android gadgets as macOS is a Unix-based operating system.
It's like having multiple doors on your lock to avoid the access of viruses. However, they are not entirely secure and are currently on the radar of cybercriminals, thus you have to get the best anti malware for Mac instantly to keep your Mac secured.
10 Best Antimalware for Mac in 2023
1. Norton Antivirus Plus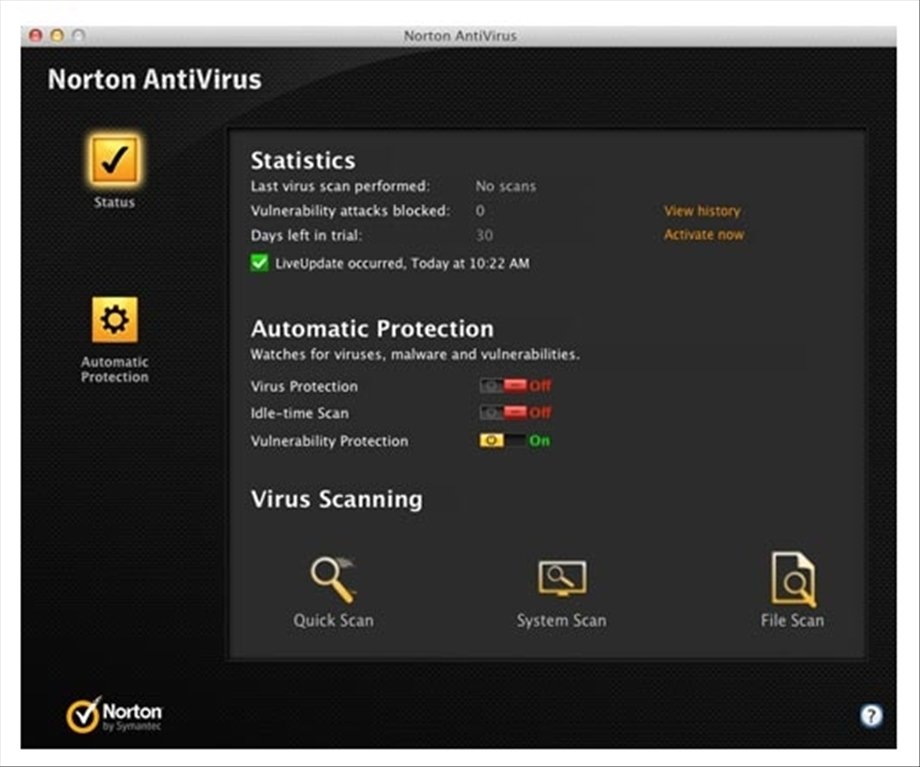 Norton is one of the most trusted and old names in the antivirus industry. Norton Security has quite strong security standards for Mac users. However, this app won't openly disclose that it requires third-party kernel extension to activate Antimalware package for Mac, this could be a concern for newcomers.
Moreover, to complete the installation process two Safari plugins are recommended – Safe Web and Identity Web. It is an unobtrusive antimalware tool for Mac which is always ready to protect your system. The scan time is quick if you don't include XcodeGhost scan which can be later conducted separately. With Norton Standard, Deluxe and Premium versions, you can welcome sense of security and protection in your Mac devices.
Features
It offers a secure VPN for online privacy.
It offers up to 100 GB PC cloud backup.
It offers parental control, password manager, SafeCam, and other advanced security features.
Protects your banking and shopping activities online.
Pros
It offers 100% virus protection promise.
It offers a 60-day money-back guarantee.
It offers proactive exploit protection against zero-day attacks.
Cons
It doesn't support old Mac versions.
Device Support: macOS X Yosemite (10.10) or later
Price Starts: $24.99 per year
2. Avast Premium Security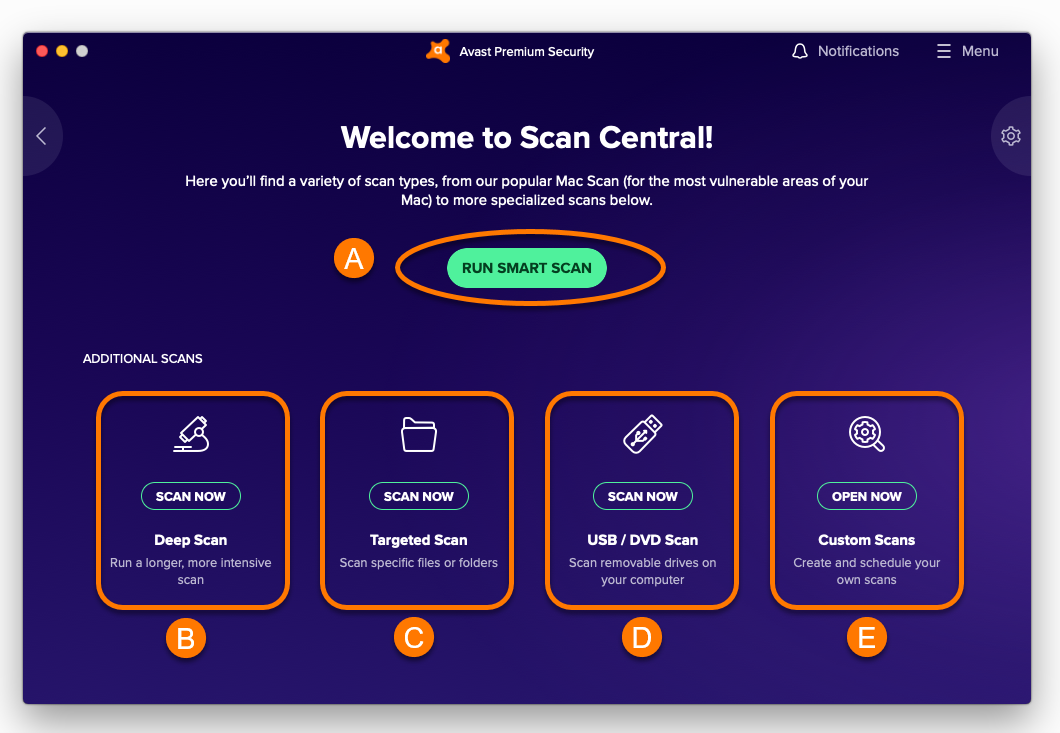 If you are looking for best antivirus for Mac that can go extra mile for you, then you have to try Avast Mac. The core antivirus program of the software helps in real time protection and it has the ability to catch threats when they appear.
This free antivirus for Mac enables you to run full system scan plus if you suspect a problem in the certain file or folder, then you can launch targeted file for a scan as well. With Avast Mac version, it's even possible to schedule your scan so that automatic scan can be conducted frequently.
It is highly functional antivirus software for Mac, Avast's wireless network scanner, which quickly checks your network, router, and connected devices, alerting you to any vulnerabilities. If you are famished with Avast free features, then you will be very pleased to get Avast Security Pro.
Features
It protects you against unsafe sites and blocks intrusive web trackers.
It sends you alerts for network weaknesses and intruders.
It sends you real-time Wi-Fi security alerts.
It offers web & email shields to keep your communication safe.
Pros
It offers multi-layer protection to keep you secure.
Free version available to try before you go premium.
Sends real-time alerts for better security
Cons
It doesn't support old Mac versions.
Device Support: macOS 10.10 (Yosemite) or later
Price Starts: $34.99 per year
3. Avira Prime Antimalware
Avira Anti-Virus tool is known for its simplicity and lightweight approach. In this antivirus for Mac, you don't find any web filtering, network scanning or additional security features. This tool simply works to keep your system malware free.
The app has multiple other features as well – real-time scanning, picking up threats, schedule scan and much more. This tool is not only programmed to handle Mac threats, but it can also be used by Windows users as well.
Features
Has the ability to analyze all the files
Ability to perform on-demand scans
Can restrict access to harmful sites
Has an excellent capability to manage malicious files
Pros
Can block spyware, adware, and ransomware
Trustworthy privacy policy
Prevents malicious files from entering your system
Cons
Can consume more system resources during full scans
Device support: Mac OS X 10.13 (High Sierra) or higher
Price Starts: $27.84/year
4. Bitdefender Antivirus for Mac
To get done the most accurate antivirus scan on your Mac device, you can trust Bitdefender Antivirus software. This is one of the best Mac antivirus available on the market. It is loaded with the features like – multiple layer ransomware protection, adware removal and its applicable for Windows malware scans also. If you are tired of internet nasties, then don't wait another second before getting Bitdefender Antivirus for Mac.
Features
Real-time protection against viruses and ransomware
Adware blocking and removal
It comes with VPN services to keep you secure online.
Time Machine Protection for backed-up files.
Pros
It offers protection to all devices.
Real-time protection for complete security.
The best tool for power users.
Cons
Cryptojacking protection could be a useful addition to the tool
Device Support: macOS X Yosemite (10.10) or later
Price Starts: $29.99 per year
5. Intego Mac Premium Bundle X9
Next best Mac malware protection software is Intego's Mac Premium Bundle X9, a suite of five Mac apps designed to protect your Mac and your family.
First there's VirusBarrier X9, which has consistently proven to be the world's best Mac antimalware solution; its realtime defense keeps Macs safe from every known malware threat. NetBarrier X9 is a two-way firewall; it not only prevents incoming attacks, but also prevents apps on your Mac from invading your privacy by phoning home without your knowledge or permission.
Personal Backup 10.9 keeps your critical documents backed up and offers more features than Time Machine. ContentBarrier X9 helps you keep your kids safe. Finally, Mac Washing Machine X9 helps you free up space to ensure you can install the latest macOS security updates."
Features
The gadget is simple to use
It can restrict unrecognized access.
The tool has excellent capability to clean and speed up.
It can protect your kid's online activity with flawless parental control.
Pros
The application has more features.
The tool has the ability to backup points for a restoration.
Can secure your device from malware and other threats.
Cons
No default scheduling option
Device Support: Mac OS X 10.9, macOS 10.15, Catalina
Price Starts: $69.99 per year
6. Sophos Anti-Virus
For individual users who want a best free antivirus software for Mac, this is for them. It is free software, however, some Premium features will get expired after 30 days trial. However, the free version is quite impressive and offers features such as parental web filtering, web protection from known malicious sites, remote management, real-time antivirus and much more.
But, if you want more features like ultra real-time protection, ransomware safety, privacy, up to 10 devices support, then you have to get the Premium version.
Features
Better security with good features
The software has an excellent ability to block viruses, trojans, worms, and other threats.
This tool can also protect your privacy.
Prevents online threats from hacking your passwords.
Pros
The application has a good capacity to protect your banking activities.
Sophos anti-virus can also secure your online proceedings.
The tool is available with deep learning ability.
Cons
No quick scan option available in the tool.
Device support: Mac OS X 10.12 Sierra or higher
Price Starts: $45.00 per year
7. Antivirus Zap
In the list of the best antimalware for Mac, Antivirus Zap is a slightly different antivirus option. You can install it from the Mac App Store so it's installation is easy and can scan very smoothly. It is different because the scan just shows you the list of viruses detected in the app or file which you have to manually delete from your MacBook.
The negative feedback of this antivirus app is non-availability of on-demand protection. The app can't run in the background, you have to manually run a scan every time. The bugs and other small problems can be easily handled by this tool. So, it is one of the best antivirus for Mac.
Features
Fast and secured operation
Easy to use
Constantly updated database
Has excellent capability to scan and remove unnecessary applications
Pros
Friendly and comprehensive customer support
Efficient startup scans
Can prevent pop-up threats
Cons
No on-demand protection support.
 Device support: macOS 10.11 (El Capitan) or later,macOS 10.15 (Catalina)
Price Starts: $7.99 per year
8. Kaspersky Internet Security
Kaspersky Internet Security for Mac brings plenty of cool features that can make their competitors run for the money. It has bright features like protection against ransomware, parental control, and tool to let you securely login into your bank or online shopping accounts.
However, the huge range of features might make the cluttered navigation, but to get so many cool features little cumbersome is alright. This best antivirus for Mac ensures your system remain in good health.
Features
The tool is having a multi-layered protection setup.
With real-time protection, we can protect all your online activities.
The software has an excellent capability to remove neutralize threats.
This genuine gadget is having anti-ransomware and network security controls.
Pros
This program can provide encrypted payment options.
You will be able to hide your IP address to enjoy anonymous browsing.
The tool can protect your online activities.
Cons
No round the clock support.
Device support: Mac OS X 10.12 or higher
Price Starts: $23.99 per year
Also Read: How to Run Windows Software on a Mac
9. Malwarebytes
Use Malwarebytes for Mac to keep your data  and system security intact. It is an antimalware software for Mac that isn't all about detecting the latest deadly ransomware or high threats, but it can also strip out unwanted programs like adware which are very dangerous for your system.
They are making your system slow by blocking space. Malwarebytes for Mac has a record of removing the full range of threats with its straightforward and effective approach.
Malwarebytes antivirus is lightweight so it won't block much space. However, it can only remove the existing infection, but can't control the future attacks. The performance and easy installation are two highlights of this software.

Features
The app has an excellent ability to remove all types of threats.
With this tool, you will be able to obtain a clean and perfect system.
This tool is having a faster scanning ability.
The software is light in construction and consumes less system space.
Pros
The gadget can perform periodical and automatic scans.
This tool offers real-time malware protection.
More efficient deep scans.
Cons
 Device support: macOS 10.11 or higher
Price Starts: $39.99 per year
10. Total AV
This one is a free antivirus for Mac that is on our best antimalware for Mac list. With this tool, you will get System Boost tool pruning startup programs and uninstalling apps, a Disk Cleaner tool to scan for duplicate apps, and an ad-blocker for Chrome, Firefox, and Opera. If you are ready to invest in the paid version, then VPN and password manager can be provided by this program.
The automatic scan won't work on the app, but when the app is open in your MacBook, then you can manually scan viruses.
Features
The application can provide complete protection against all types of threats.
With the utility tool of the software, you can boost up the system speed.
This tool can also clean your Mac system to free more device space.
You can protect your data with the aid of this gadget.
Pros
This product can offer you strong protection against malicious URLs.
Simple and user-friendly interface.
Can identify and delete duplicate files
Cons
Usage is restricted to six systems
Device support: mac OS X 10.9 and higher
Price Starts: $19.95 per year
FAQs
1. Do Macs need antivirus?
Mac operating system is not resistant to threats. There is a high risk of infections when you work online. Even though Apple's inbuilt utility can prevent most of the viruses, it is better to provide some extra protection to your system.  Making use of the latest Mac antivirus will help you in detecting evolving virus signatures.
2. What is the best antivirus for 2023?
We have plenty of antivirus software for our Mac device. Bitdefender Antivirus for Mac is one of the reliable and best in class tool for protecting your device. This tool can offer real-time protection with extreme scanning ability.
3. Do Macs have built-in virus protection?
Apple computers with OS X will have a virus protection tool called XProtect. But this tool has fewer capabilities and it is not reliable. As the virus database is evolving we can ensure the system of your system with the inbuilt tools. It is always better to have an updated antivirus program.
4. How do you tell if your Mac is infected?
You can identify the system infections with the abnormal activities of the system. Misplaced advertisements, malware infections, and the inclusion of potentially unwanted programs are signs of system infections.
The Final Words
Now, it's your choice whether you want to take a risk and keep on using your macOS devices without proper antivirus app or you be the smart one and install the best antivirus for Mac immediately to keep your system & data safe. So, be secure and always use the best antimalware for Mac.

Recent Post
Explore a comprehensive guide comparing top bulk email software to streamline communication. Discover key features, pros, and cons to help choose the ideal solution for your business's email marketing needs.
PC randomly turns off? Resolve random PC shutdowns sans overheating. Learn quick fixes—update drivers, check hardware, scan for malware, and more in this comprehensive troubleshooting guide.
Fix the frustrating Exit Code 1 crash when trying to open Minecraft. This article provides 8 step-by-step solutions to resolve the error. Learn exactly what causes the Exit Code 1 Minecraft crash and how to get Minecraft running smoothly again.
This in-depth review explores Xnxubd 2021 Frame Rate X 2 – the AI-powered video playback enhancement software that delivers 2X smoother streaming and gaming.
GeForce Experience error code 0x0003 is a common issue that prevents the Share overlay from working properly. This article provides 9 fixes to resolve error code 0x0003.
Explore a comprehensive comparison between CCleaner VS Advanced SystemCare, two leading system optimization tools. Discover their features, functionalities, and performance to make an informed choice.
Discover the top 10 CCleaner alternatives for Mac in 2023. Explore a range of efficient, user-friendly programs like CCleaner for Mac tailored for a seamless macOS experience.
Discover the top 15 free live wallpaper apps for Windows 10 & 11 PC! Elevate your desktop experience with these dynamic and stunning wallpapers. Find the perfect app to personalize your desktop.
How to fix Unknown USB Device error which is also famous as Device Descriptor Request Failed error on Windows 11 and Windows 10 PC.
When you secure college admission to pursue a degree or diploma of your choice, what often comes to your mind? Except for those who got a chance to study in a specific university due to talent, especially sports, a significant proportion of students will want to land a well-paying job, whereas a few might opt […]