How to Speed Up Mac in Few Simple Steps?
There comes a time when you are no longer able to enjoy working with a Macbook simply because it has slowed down too much. When that happens, users begin to panic and look for any ways to salvage the situation only to fail.
Some even go as far as considering to purchase a new computer. This kind of thing should only be a last resort. If you have similar problems, you may want to relax a bit and look at these tips that will speed up your Macbook's performance to new heights.
Tips That Will Actually Make Your Macbook Run Faster
Clearing Caches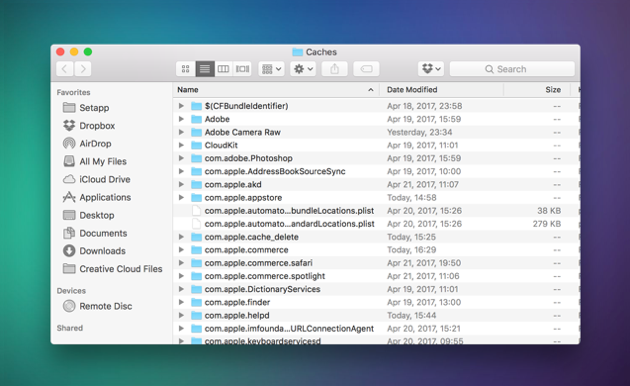 One of the most common culprits of the whole issue is the lack of space on the hard drive. If you begin to notice that this space continues to shrink despite not installing new applications or leaving media files, look at what your cache situation is like. 
Temporary files accumulate whether you like it or not. Caches get created whenever an application is launched. These instructions on how to clear the cache on mac will help you a lot. Follow below mentioned steps to clean cache:
Open a Finder window > select "Go to Folder" in the Go menu.
Type in ~/Library/Caches and press enter to proceed to this folder.
Optional step: You can highlight and copy everything to a different folder just in case something goes wrong.
Go into each of the folders and clean out everything.
Note: We recommend that you remove the insides of these folders, but not the folders themselves.
Now, repeat the same steps above, but substitute…
~/Library/Caches   with…   /Library/Caches
Once done, empty Trash to get rid of unnecessary cache files completely and boost your Mac performance.
Dust and Dirt
Not all problems have to be about the technical side of things. Some individuals tend to neglect the part about keeping things clean not just on the inside, but on the outside as well. That is correct – the issue here is dust and dirt.
Nobody is safe from spilling coffee or energy drink on their keyboard only to spend some time cleaning it later. But what you should also be doing is regularly getting all the dust from the fans, etc. A thorough cleaning will help with Mac performance as well as overheating.
Desktop Icons
If you are one of those individuals who like to put all of their stuff on the desktop, well, it is something that you ought to refrain from doing. Every icon here has to be rendered whenever you switch from the desktop to another window. So if there is no room left, one can only imagine how many resources it takes.
Put everything in specific folders because that is what they are for. Get in the habit of keeping things more organized on your computer. If you do that, it will translate into something more later on. It will simply help you speed up Mac performance significantly.
Viruses and Malware
Even those who avoid shady websites like nothing else can get infected with a virus or malware. Nobody is safe on the internet these days, and if you catch something really nasty, it may no longer be possible to continue using your computer.
The solution is obvious – running a scan and deleting any unwanted things that anti-virus software catches. 
Startup Items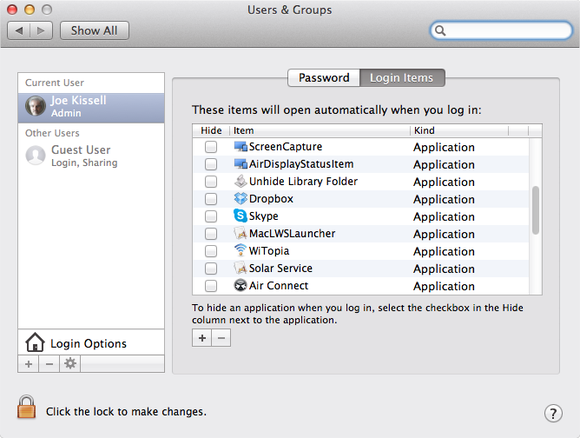 Another big problem that some fail to realize would have to be a ridiculous number of applications that start together when you boot up the Macbook. Startup items should be kept to the minimum.
Go to System Preferences and locate your username's Login Items. Uncheck all the boxes you can. After all, whenever you need to use something, you can always start it separately. And if that helps with the performance, it would be foolish not to take care of this particular piece of business. 
OS Updates
Most will tell you that you should always have the most recent OS version up and running. This is true in most cases, but some people have experienced performance issues when they switched from Mojave to Catalina. In case the same thing happened to you as well, consider going back to the previous version.
Resource-Heavy Apps in the Background
Open your Activity Monitor and find out which applications consume the most resources. Sort them by energy, and if there are some heavy hitters, you may want to consider shutting them down.
At the same time, you could be in a situation when using those particular applications are imperative for your work. Is there a solution for that? Well, it is difficult to say, but you may consider looking at alternatives. Internet browsers are a good example. Look which of them consume the least, and stick to it if you want to focus on saving resources and speed up Mac performance.
Adding More RAM and Purchasing an SSD
There is no need to completely replace a Macbook, but a hardware update is always a good option. These days, adding extra RAM can make a world of difference. The same thing applies to solid-state drives. 
The best thing about it would be the fact that almost anyone can afford it. Finding a cheap option will not be a problem. 
So to sum everything up, this article should be more than enough as it covers pretty much all the necessary steps one has to take in order to speed up Macbook performance. Keep in mind that some methods will have a bigger effect than others. But the more you try, the better the final result ought to be.
Recent Post
Explore a comprehensive guide comparing top bulk email software to streamline communication. Discover key features, pros, and cons to help choose the ideal solution for your business's email marketing needs.
PC randomly turns off? Resolve random PC shutdowns sans overheating. Learn quick fixes—update drivers, check hardware, scan for malware, and more in this comprehensive troubleshooting guide.
Fix the frustrating Exit Code 1 crash when trying to open Minecraft. This article provides 8 step-by-step solutions to resolve the error. Learn exactly what causes the Exit Code 1 Minecraft crash and how to get Minecraft running smoothly again.
This in-depth review explores Xnxubd 2021 Frame Rate X 2 – the AI-powered video playback enhancement software that delivers 2X smoother streaming and gaming.
GeForce Experience error code 0x0003 is a common issue that prevents the Share overlay from working properly. This article provides 9 fixes to resolve error code 0x0003.
Explore a comprehensive comparison between CCleaner VS Advanced SystemCare, two leading system optimization tools. Discover their features, functionalities, and performance to make an informed choice.
Discover the top 10 CCleaner alternatives for Mac in 2023. Explore a range of efficient, user-friendly programs like CCleaner for Mac tailored for a seamless macOS experience.
Discover the top 15 free live wallpaper apps for Windows 10 & 11 PC! Elevate your desktop experience with these dynamic and stunning wallpapers. Find the perfect app to personalize your desktop.
How to fix Unknown USB Device error which is also famous as Device Descriptor Request Failed error on Windows 11 and Windows 10 PC.
When you secure college admission to pursue a degree or diploma of your choice, what often comes to your mind? Except for those who got a chance to study in a specific university due to talent, especially sports, a significant proportion of students will want to land a well-paying job, whereas a few might opt […]