10 Best PC Cleaner for Windows 10/8/7 (Free & Paid) 2021
Your powerful Windows computer may start crawling over time when not taken care of properly. Sluggish Windows performance is a common issue most users face after a period of time. The primary reasons behind it include a lot of junk files, obsolete apps & programs, virus issues, outdated software, outdated drivers, and more. While we have discussed how to update software in Windows 10 in a separate post, for the rest of the performance issues you need to clean storage space to speed up Windows performance.
How to clean storage space in Windows 10?
If you want to disk clean up Windows 10 manually, then follow this detailed guide. Now if you find manual process time & efforts consuming, then we suggest you should use the best PC cleaner for Windows 10/8/7 to clean storage space and boost PC performance in 2021. Working on smart algorithms, these powerful tools scan, detect, and remove junk from your PC even from the remotest corners of system storage.
How have we listed the best PC cleaner software for 2021?
We have tested & reviewed 37 different PC cleaner & optimization software before listing the best tools you should use to clean & optimize your PC. The important parameters to list these tools include:
Compatibility & Ease of Use

: The software should be easy to use and has greater compatibility with your Windows version.

Performance:

The software should perform seamlessly no matter how intense cleaning it needs to perform. At the same time, it shouldn't take a lot of time to perform its cleaning task.

Reviews & Ratings

: Only the best software that has high ratings & reviews across platforms have been listed here.

Pricing

: The software should have a reasonable price. It should be useful for both budget and power users.
If you are short on time, try these tools for effective PC cleaning & optimization:
1

2

3

Advanced cleaning & optimization features

· Offers protection against malware threats

· Excellent ability to remove harmful files and programs

· Capability to interpret registry issue ·

Simple intuitive user interface

· Coherent with nearly all versions of Operating systems

· Ability to deep clean junk files

Can renew more speed and stability

Advanced ability to enhance system speed

· Helps you fix registry issues

Internet Booster can help increase Internet speed

· Capability to increase boot speed
Top 10 PC Cleaner Software for Windows 2021 (Free & Paid)
Your search for the best software to clean & optimize Windows PC ends here. Let's discuss what these tools have to offer you.
This smart PC optimization tool is trusted by millions of users around the world for improved performance. CCleaner offers one-click cleaning process to save your time and reduce manual efforts. It automatically performances a scanning of your system to find and remove all junk files efficiently. It helps you clean web browser history & cookies to offer you online privacy protection.
Further, it sends you automatic updates at regular intervals to keep your system performance smooth & faster. You can use its patented Windows registry cleaner feature to fix various registry errors including broken settings. It even helps you speed up Windows boot process by disabling unnecessary startup items. You can use this powerful PC cleaner to keep your system in good health in 2021.
Features
Advanced ability to enhance system speed
Can recover more disk space
Ability to clean junk files
Capability to increase boot speed
Pros
Better system performance improvements
Realistic system monitoring
Capacity to scan multiple users with a single click
Keep your software up to date with auto-updating options
Cons
Fewer configuration options
Free version has very limited options
Price: CCleaner Professional $29.95/year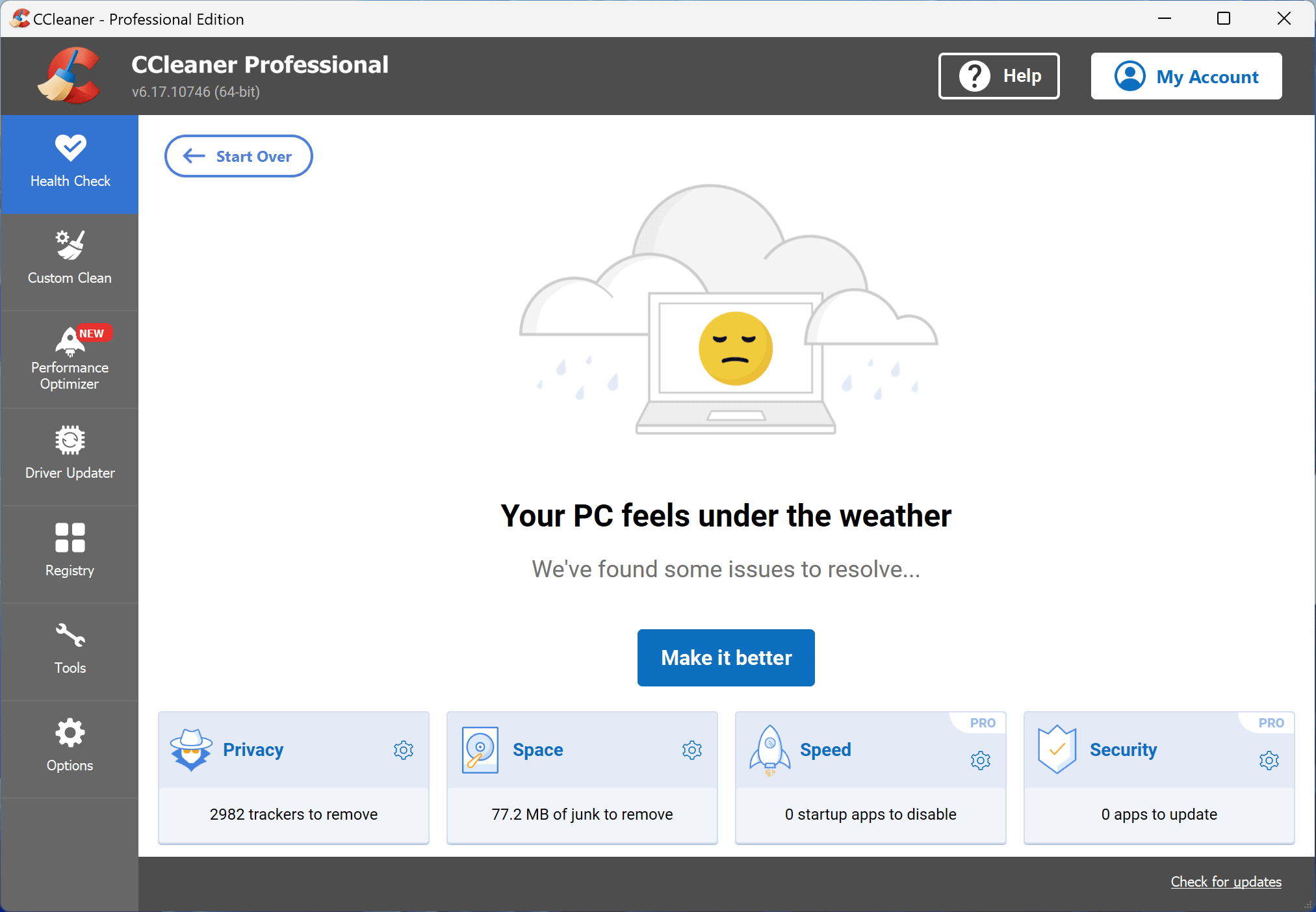 CleanMyPC is a powerful PC cleaner tool for Windows that scans your whole computer space to find and clean all junk files including cache & log files to speed up your PC. Here, it helps you clean traces of uninstalled programs to keep your system security intact. In addition to other useful features, it also helps you speed up your system boot time by managing startup items and fixing registry issues. In other features, it helps you cut down on unnecessary extensions, protect your online privacy, permanently erases your files securely and helps you manage hibernation files.
Features
Optimum Security for your privacy.
Speedy net access
Excellent ability to remove harmful files and programs
Can renew more speed and stability
Pros
Simple User- interface
Faster recovery options
Useful for power users
Interactive Email support
Cons
Free version has limited options
Bit complex to navigate initially
Price: CleanMyPC $39.95
One of the oldest and widely-used tools, Iobit Advanced System Care is a great PC Cleaner tool for Windows cleaning & maintenance. It not only helps you clean your PC, but also enhances the startup speed of your computer as well. With this tool, you can easily remove junk files and free up disk space. You can also use this program to clean apps and toolbars as well.
Features
Advanced PC cleaning options
boosts internet connectivity speed
Secure your personal data
Optimized turbo boost for achieving noble system performance
Pros
Improved competitive functionality
Low price
Enhanced private data protection
A large number of additional tools
Cons
Complex navigation
Lack of live chat support
Price: Advanced System Care 14 Pro: $19.99/year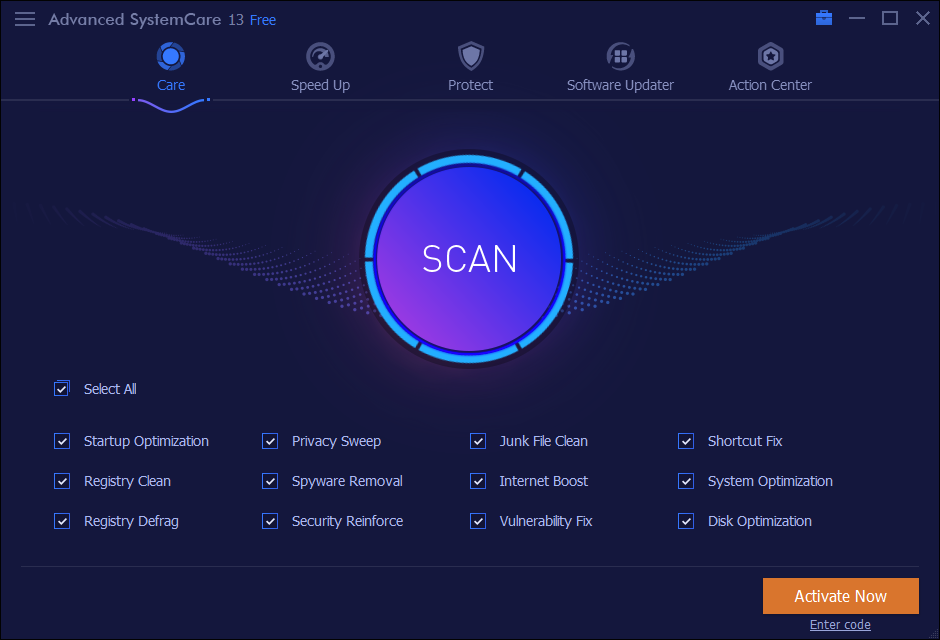 This is one of the best PC cleaning software out there. It's quite effective at removing junk files which eat up storage space and slow down your computer as well. Furthermore, this program comes with a special feature which helps you avoid any type of annoying advertisements and notifications while playing games. Additionally, it also offers a driver updater feature which helps you keep Windows drivers up to date.
Features
Simple intuitive user interface
Coherent with nearly all versions of Operating systems
Enhanced malware and spyware defense
Capability to interpret registry issue
Pros
Efficient system scan
Ability to fix errors quickly
Better disk defragmentation features.
Advanced integrated system protector
Cons
Lack of premium support
Abundance of features that could confuse user
Price: Advanced PC Cleanup $47.14/year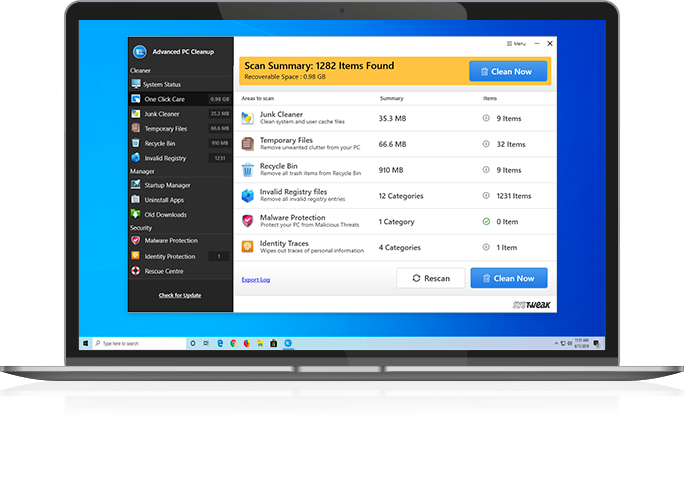 One of the powerful cleaners out there, Auslogics BoostSpeed 12 offers a wide range of features that are quite effective and efficient. This tool is packed with all the essential features that help you get rid of junk files and restore system stability. Furthermore, you will also get privacy protection feature as well. In addition to that, you can also schedule automatic system maintenance.
Features
Excellent potentiality to discover and deal with the boot issue
Adoring ability to regain huge hard disk space
Competence to increase system speed and stability
Scheduled PC clean
Pros
Inbuilt with user-friendly tools
Avoids threats related to registry editing
Enhances system speed
Protect your privacy
Cons
Full version is little expensive
The trial version of the tool has limited options
Price: Auslogics BoostSpeed 12: $59.95/year
Use Wise Care 365 for complete protection of your PC. It helps you protect your system privacy and make your PC run faster. During the process, it cleans and optimizes your PC for better performance. It protects your system in real-time by blocking apps that try to make modification in system apps without permission. This advanced PC cleaner for Windows helps you clean temporary files, log files, browser cache, cookies, download history, and more.
Features
Brilliant system protection
Superlative registry and junk files cleaning
Ensure the PC speed and security
Ceaseless technical support
Pros
Requires fewer system components
Well constructed interface
Efficient free version options
Availability of more tools
Cons
Compatible only with Windows OS
Poor customer support
Price: Wise Care 365 Pro $82.54/year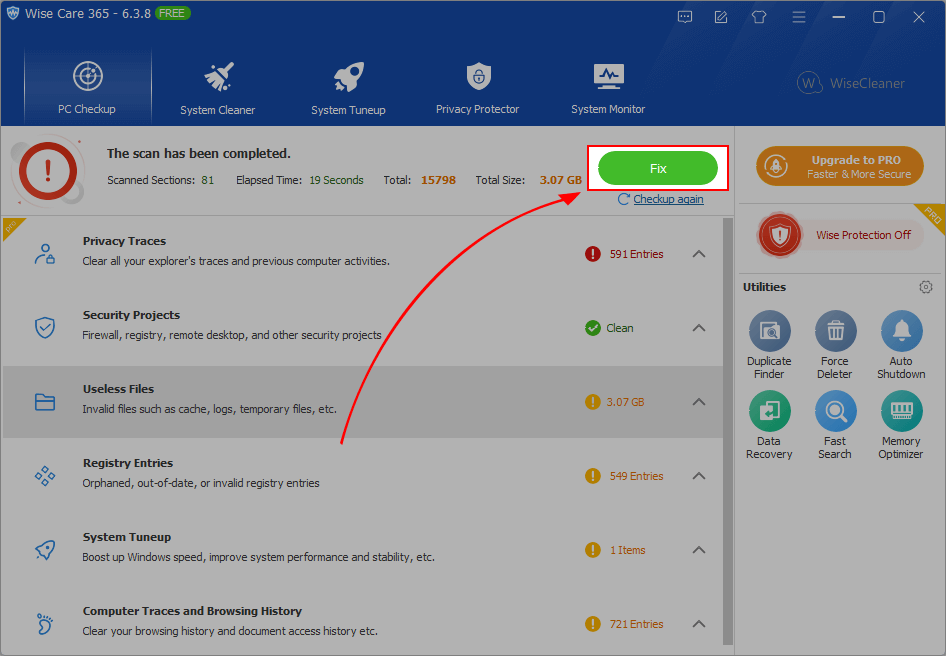 This powerful and best PC cleaner utility offers abundant useful features to keep your system optimized for best performance. Here, it not only helps you find and clean all junk files on your system but it also helps you clean up disk space to speed up your PC performance. Further, it works on its patented "programs-On-Demand: technology to put all unnecessary programs into sleep mode to improve your system performance. In other features, it optimizes your system battery life, updates your essential programs, speed up the boot process, avoids system crashes and lot more.
Features
Automatic scheduled maintenance
Intelligence to uninstall software
Facility to free up more space
Remove bloatware and junk programs
Pros
Simple system repair option
Easy to use
Can save more battery life
Automated system maintenance
Cons
Crowded list of options may confuse users
Have to use many tools for complete clean-up
Price: AVG TuneUp $20.99/year

Avira System SpeedUp tool can elevate the performance parameters of your computer. This reliable tool is a paid software that can be used to optimize the system by clearing unwanted junk files to enhance the system speed. Cache memory files, temporary files and other unnecessary rarely used files can be identified and erased with this tool. The automatic optimization facility of this software keeps the user less bothered about system errors.
Features
Competent startup optimizer
Easy user-interface
Multi-device compatibility
PC speed and battery optimization
Pros
Can enhance system performance
Elevated capacity to resolve system issues
Simple scanning option
Can ensure and secure your privacy
Cons
Cannot create system backup
Poor shortcut cleaning ability
Price: Avira System Speedup Pro: $31.99/year
For the flawless performance of the system, it is necessary to boost the drive's memory consistently. This can be achieved by using this genuine and best PC cleaner software. The tool is a paid version with extensive scanning and optimizing options. The Avast Cleanup tool can clean shortcuts, disk residues, registry entries, and browser histories. This wonderful application is provided with auto-update abilities which can keep the application up to date.
Features
Patented breakthrough technology
Capable defragmenter for merging fragmented files
Prevents hard disk errors
Spruce up registries
Pros
Attractive user-interface
Clears junk files from different software
Statistic related cleaning ability
Multiple optimization tool
Cons
The tool is expensive
Poor software stability
Price Avast Cleanup Premium $29.99/year
Norton Utilities Premium is one of the best PC cleaner software for Windows that works on comprehensive technologies to help you keep your PC performance intact. Working as an uninstaller tool, it helps you scan, detect & remove files or programs that you don't need any more. Its smart algorithms help you scan your system to find & fix system issues to keep your system running well. It cleans and speeds up your PC by fixing common issues that can cause frustrating slowdowns or crashes.
Features
Progressive mastery to clear unwanted startup programs
Speeded program access
One-click optimization
Shields your personal data
Pros
Can diagnose with consistency
Active system monitoring features
Inbuilt tools to test performance
Simple problem definition
Cons
Limited installation options
Clean up activity is complicated
Price: Norton Utilities Premium $39.99/year
PC Cleanup Q&A
Why Computers Get Slow Over Time?
There could be numerous reasons behind slow PC performance. It may include junk files such as temporary files, log files, cache files, obsolete large files etc . In addition to that, outdated software, malware issue, registry errors, and hardware issues could also be a reason behind slow performing computer.
How to Use Built-in Disk Cleanup Utility?
Built-in Disk Cleanup utility is useful addition to Windows to keep your system clean manually. To use this utility, follow below mentioned steps:
Search & select 'Disk Cleanup' in the search box on the taskbar.
Select the drive that you want to clean when prompted.
Now it will scan the selected drive and display scan results on Disk Cleanup window.
To delete any of these junk files, simply select it and press OK.
Note: You can also use Disk Cleanup utility to clean up system files. To do this, click on 'Clean up system files' button on Disk Cleanup window.
Which is the best PC cleaner software for 2021?
Based on our testing, CCleaner Professional and CleanMyPC have proved to be the best PC cleaner tools available on the market that you should try in 2021. However, every tool out there on the market claims to be the best PC cleaner for your PC. Here, you need to consider few important factors to choose best PC cleaner for your system. Factors that you should consider include:
It should deep clean & optimize your PC for better performance.
It should backup your data before cleaning to avoid accidental deletion.
It should offer real-time cleaning to keep system performance intact 24/7.
It should have high compatibility with your Windows version.
Is PC Cleaner Safe to Use?
While PC cleaner software are notorious for being space hogs, you should always check user reviews & ratings before downloading any software. You should always install it from official site or some reliable source.
Advantages of Using Best PC Cleaner Software?
The major benefits of using best PC cleaning software includes, it works automatically to save time, it deep scans & cleans your PC, it helps your free up GBs of disk space, it helps you keep you system privacy & security intact, supports cleaning all types of junk, and more.
Conclusion
All the software mentioned in the list above have been thoroughly tested & reviewed before listing them here. If you have neglected PC cleaning & optimization for a long time, then it's time you should use the best PC cleaner & optimization software. These smart tools will help you clean storage space and speed up Windows PC performance in 2021. You can use these tools for better PC performance no matter if you are using Windows 10/8/7/Vista/XP 32-bit or 64-bit versions.
Cover Image: PCMag