10 Best Backup Software for Windows (Free & Paid) 2023
With the ever growing reliance on digital media to carry out everyday contents, the amount of data that each individual has is nothing short of insane. Where would you go looking for your data if something happens to it? Get a best data backup software for Windows before things go wrong.

There are plenty of Windows backup software available that will suit all your needs perfectly. The best backup software allows you to organize, manage and automate backing up tasks on Windows 11/10/8/7. Your files and documents are saved on their own while you keep working on them. Zero fuss. But how to know which software is for you?
Best Backup Software for Windows 11/10/8/7 in 2023
If you are looking for a premium backup software for Windows 11, Windows 10 or below, look no further. EaseUS Todo Backup for Windows (there is a free version available) has got you covered. The software offers a lot of features from allowing you to backup individual files and folders to backing up complete drives or partitions and to even creating a full system backup. You can schedule your backups, run them as incremental, differential or full backups. There is a free trial version also available for the premium version.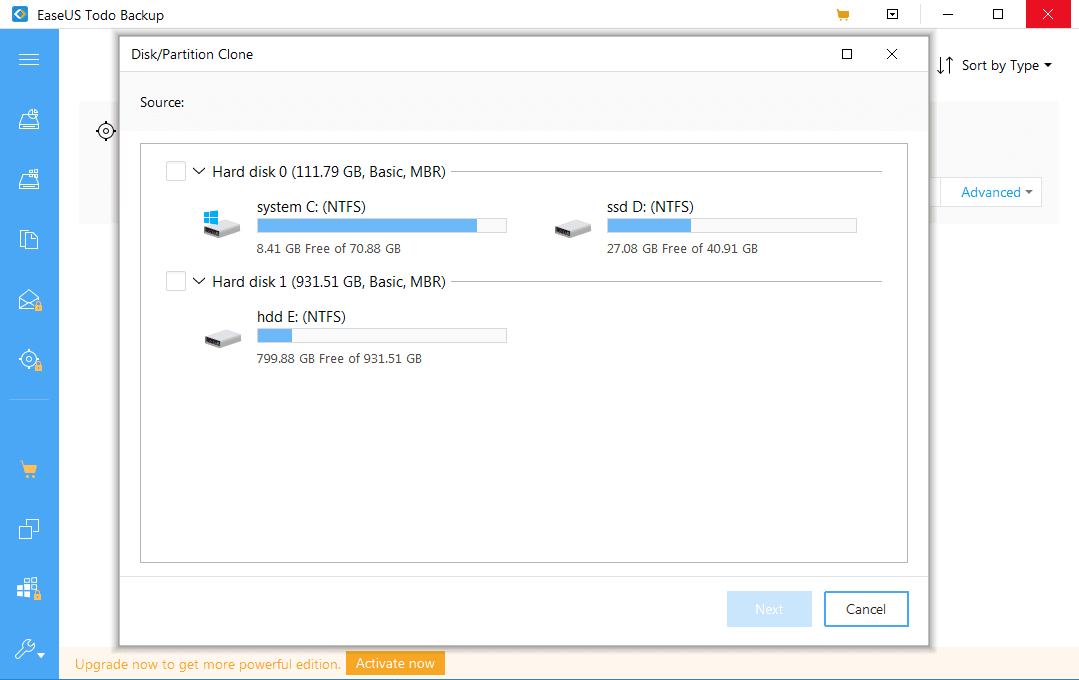 Special Features
Complete system backup to another location
Wipe disk partition
Full, incremental, differential backup
Schedule backup
Outlook email backup and recovery
Email notification, pre/post command, offsite copy, file exclusion
Clone system
This software backup for windows provides trustworthy backup along with cyber protection to safeguard your data, files and entire systems. With the Acronis True Image, you can manage and access your backups from anywhere remotely without any fuss. This is the only personal backup software that uses AI to stop ransomware and cryptojacking.
Special features
Backup entire drive on cloud
Offers ransomware protection
Offers Instagram and Facebook backups
Options private encryption key available
Offers Try & Decide tool- install a new program. If not satisfied, roll back to previous state
Make backup on external disk, local drive, and on the cloud
'Upon Event'- create backups at special instances
With this backup software for Windows 10 and Windows 11, you can backup full partitions, clone entire drives, and backup individual files and folders as well. ShadowMaker is best suited for you if you need to backup your data on a regular basis. Daily, weekly or monthly, take your pick and let the software do its job. You can even control how much space is allocated to the backup files on your hard drive.

Special Features
System backup and restore
Sync files and folders to another location for safety
Restore data to different computer
Backup full partitions
Clone entire drives
Manage hard disk space by changing backup scheme
Backup on a regular basis- daily, weekly or monthly
Also Read: Best Data Recovery Software for Windows
4. PCtransfer
IObit PCtransfer has earned its place in the list for the best Windows backup software. The software simplifies the backup process for you as you can select data you want to transfer quickly. Also, transfer important data from your PC to an external hard drive or even a new PC with just 1-click. It is free, light and portable and works well with Windows XP, Vista, 7, 8, 10 and 11.

Special Features
Backup and transfer documents and files
Backup Skype chat record and emails in Outlook to new Windows system
Transfer to external hard drive with just 1-click
Supports Windows XP, Vista, 7, 8, 10 and 11
Backup photos
Backup settings
Backup browser bookmarks
5. Cobian Backup
If a free backup software for windows deserves to be in our list of the best backup software for Windows 11/10, it is the Cobian Backup. It is one of the most advanced software there is in the market. It is well suited for experienced users and for those who know how to configure their backups well. With this, you can create, schedule multiple backup jobs and that too to multiple locations as well.

Special Features
Create, schedule multiple backup jobs
Archive files to external hard drive or network location
Compress backups to save space
Optional encryption available to keep data secure
Highly customizable
Archive files to FTP server, if access available to one
Backup to multiple locations simultaneously
6. Paragon Backup & Recovery
Paragon backup and recovery software for Windows is here to make your backup process easy and smooth. Backup your entire computer, partitions, and files and folders. This data backup software is a whole data management toolkit, and comes with a CD or USB-based recovery system to restore your data in case you are unable to boot into Windows.

Special Features
Backup files, folders and disks
Backup entire OS
Restore from selected file and point
Schedule backups, backup/restore in WinPE
Customize backup parameters- backup type, when, where, frequency
Automatically delete old backup images based on specified value
Mount archives by setting drive letter and browse backup like on normal computer
7. FBackup
This Office inspired backup software offers a choice of wizard and advanced modes. Create backup jobs with files and folders. Save your backup to external hard drives, local or network drives or even on Google Drive. The freeware version of this backup software for Windows 10 and prior lets you schedule your backups up to date.

Special Features
Free for personal and commercial purposes
Automatic scheduling
Protection against ransomware
Automatic updates
Supports multiple backup destinations- USB/Firewire, mapped network drives, CD/DVD/Blu-ray
Supports online backup destinations -Google Drive and Dropbox
Track backed up data with backup catalog file (created each time backup runs)
Also Read: How To Recover Photos From PC Or SD Card
8. GoogleDrive
This backup software for Windows needs no introduction. It isn't a traditional tool, for it is completely cloud based and there is only limited storage capacity available but that can be boosted. Backup individual directories, key files, folders, and photos. It is easy to specify any number of folders for monitoring by Google Drive software. Any changes, deletions or additions are applied very quickly.

Special Features-
Store any and endless number of files
Access files from anywhere
Invite others and share files and folders easily
Changes are applied almost near-instantaneously
Option to upgrade storage available
Backup individual directories
Simple and easy interface
9. BackBlaze
Another one of the best backup software available at low cost is BackBlaze. It is a cloud based backup software, which is highly convenient to use. Automatically backup your PC files, preserve team's work or simply plug into infinitely scalable storage. You can locate your lost or stolen computer and also have a hard drive delivered to your home with your data on it. Backup your data online and never lose anything ever again with this Windows backup software.

Special Features-
Lowest priced cloud storage available
Automatically backup files, folders, photos, and projects
Preserve business projects with unlimited servers for NAS, VM, desktops & laptops
Plug into infinitely scalable storage via APIs, Web UI, CLI etc.
Locate lost or stolen computer
Get hard drive with backed up data delivered to doorstep
Access data from anywhere
Use Android app to access files
10. NovaBackup
This Windows backup software is highly secure and is available as a subscription. You can backup your hard drive on the local media and it supports backup to cloud providers like OneDrive and Dropbox. The backup can be performed with a AES-256bit encryption if you want extra security for your data. The software is offered with tutorial videos as well.

Special Features
Backup files, folders and images
Central monitoring
Single mailbox restores available
Backup on local drive or on the cloud
Virtual machine replication available
Encryption offered for extra security
Available as subscription for servers, PCs & MSPs
Conclusion
The need to backup and protect your data cannot be stressed enough. Get Windows backup software. You have the list of best backup software for Windows. Now choose the one that suits you and start backing up important stuff today. Be it on the drive or on the cloud, just backup.
Let us know if you like our list!
We are waiting to hear from you!
Leave a comment!

Recent Post
Learn how technology can help you manage liquidity in the modern era. Here you will find strategies for effective liquidity management and banking challenges.
Know how a digital product agency can help your build a successful business.
Searching for ways to create beautiful diagrams in a hassle-free way? You will get the best guidelines here. We will provide you with a detailed guide to easily create beautiful diagrams.
Here are the easiest steps to improve your checkout page and boost your online sales.
Here are the 7 signs that indicates you are ready to apply cashless system in your business.
Facing issues like your computer turns on but no display on monitor? Explore these nine ways to diagnose hardware or software problems in a functioning system.
Introduction: As technology continues to advance at an unprecedented pace, the importance of drivers on Windows operating systems cannot be overstated. Drivers are software components that allow your computer to communicate with hardware devices such as printers, graphics cards, and USB ports. Without proper drivers, your computer hardware would not function properly or at all, […]
Are you facing the frustrating issue of your PS4 controller charging but not connecting to your console? Explore these best seven fixes to resolve it.Introduction
Learn the best ways to use social media to help you generate leads and grow your business.
In a world driven by technology, finding the perfect gift for the tech enthusiasts in your life has never been more exciting. Whether they're gamers, gadget lovers, or tech-savvy professionals, there's an array of innovative and cutting-edge options that will leave them thrilled. From sleek gadgets to immersive gaming experiences, the world of tech gifts […]